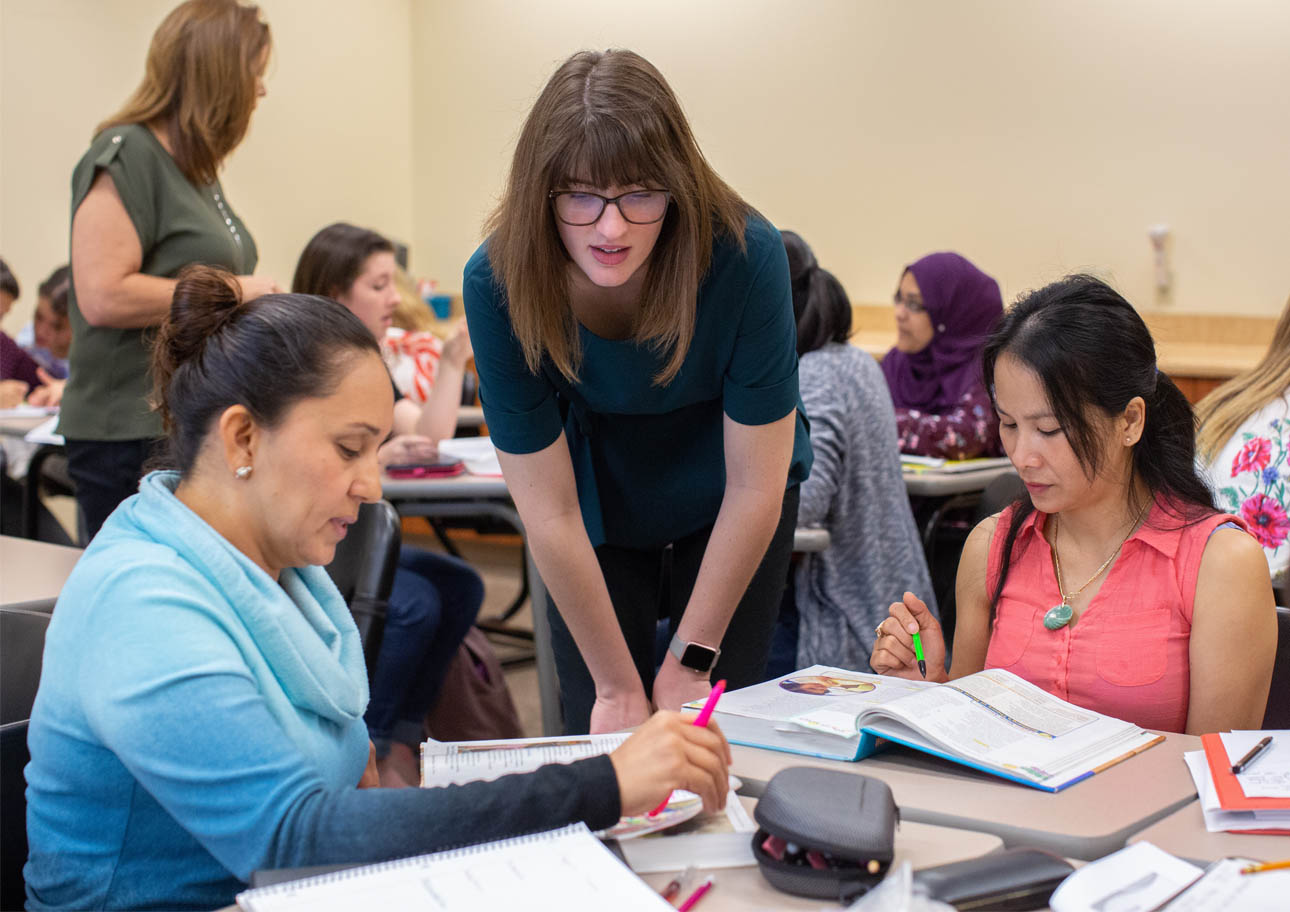 December 14, 2018.
---
California has a problem: while the need for workers with post-secondary training and education is growing, the supply of workers with those skills is not. In fact, as of 2014, an estimated 57 percent of the adult workforce was considered "low literacy," meaning they had limited English proficiency and lacked meaningful educational credentials.
In 2013, California State Assembly Bill 86 (AB 86) was passed to address this problem. Within its language was a unique charge for regional adult education institutions to not only rethink and redesign adult education programs across the state but also to do so together. 
"We basically took that as our vision statement for the consortium, with an emphasis on 'together,'" says Valentina Purtell, Provost of North Orange Continuing Education (NOCE) and a central figure in the creation of the North Orange County Regional Consortium (NOCRC) for the Calfornia Adult Education Program. "Before, it was just individual programs scattered across the region. Now we're a network of partnerships, sharing resources and best practices, and all working toward the same goal of identifying the regional needs of our adults and offering the best services possible."
Today, NOCRC is comprised of eight member organizations including North Orange County Community College District, the North Orange Regional Occupational Program, five regional K-12 districts, and the Orange County Department of Education. Together, these organizations are not only involved in developing programs to address the educational needs of regional adults, but also in establishing the community partnerships necessary to offer those programs.
"On a basic level, we are connected by a regional plan with broad goals and specific strategies to reach those goals," says Purtell. "More importantly, these partnerships have extended our resources, improved our ability to reach the populations that need us most, and helped us shape the services we offer them."
NOCRC itself is divided into five instructional workgroups which are staffed by professionals from the consortium's member organizations. Each workgroup manages the programs offered in one of five different service areas: Career Education; English as a Second Language (ESL); Basic Skills/High School Diploma; Disability Support Services (DSS); and Supporting Adults for Student Success (SASS).
Together, these workgroups manage a diverse set of programs aimed at helping adult learners gain the skills they need to enter and thrive in today's rapidly evolving workforce. Several of these programs are the only ones of their kind in the state.
For instance, the ESL Mentorship Program is managed by Hilda Rivera, herself a former ESL student at NOCE. Throughout the program, Rivera and student mentors identify ESL students seeking to transition into college and gives them the guidance and support they need to achieve their educational goals.
Another unique program through Disability Support Services is the ARISE lab, which stands for Academics, Relationships, Independence, Self-Advocacy, and Emotional Health. This one-of-a-kind lab, located at NOCE's Anaheim Campus, provides any student, and particularly those with Autism Spectrum Disorder, the tools and resources to help them be more successful while on campus. The lab provides a low sensory environment where students can refocus and re-center, tools for students to relax, and a quiet space where students can relax or seek guidance from staff. The ARISE lab has been so successful that both Cypress College and Fullerton College are in talks to create their own.
Despite a renewed focus on adult education, regional programs still face major challenges. It is only recently that policy makers and business leaders have come to realize the pivotal role that adult education serves in providing an educated workforce that can meet the demands of regional economies. One key issue is sustainability.
Ultimately, the question of sustainability is one that may be answered by the partnerships and the togetherness that form the core of NOCRC's vision.
"We provide real skills that lead to real tangible outcomes, not only for our adult learners, but for the region as a whole," says Purtell.
And that's something that everyone can get behind.