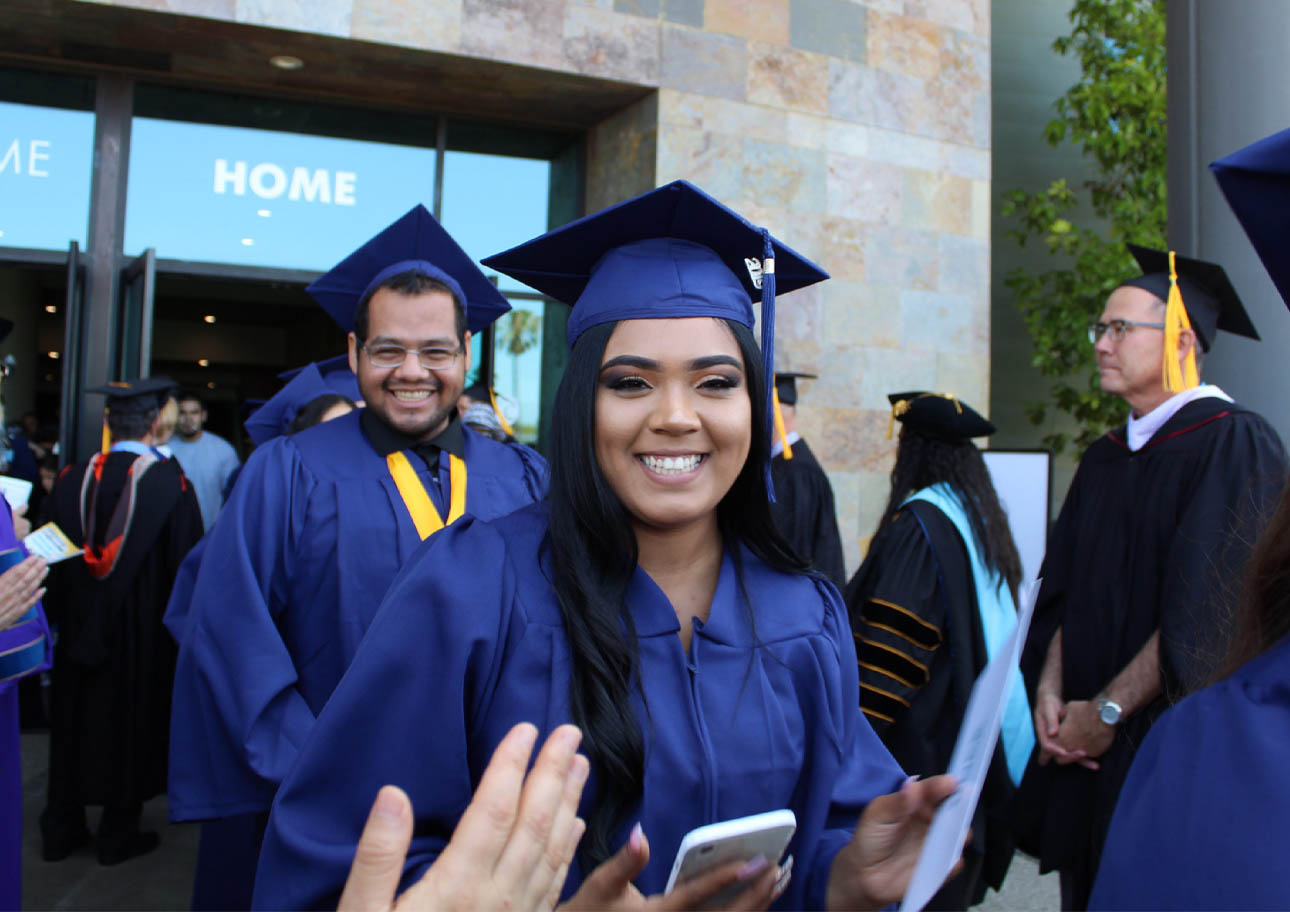 June 18, 2020.
---
Bridges are made to flex in the wind. That's what makes them built to last, even in the stormiest conditions.
Surviving the sway. Bending, but never breaking. For a continuing education student caught in the chaos of the health crisis, it's a pretty relatable metaphor. And when it comes to bridging the gap for students like these, the "Anaheim Pledge" is engineering the future.
Under the umbrella of North Orange Promise, North Orange Continuing Education's Anaheim Pledge program provides unique educational pathways for the area's high school students to transition to community college. At NOCE, students who need high-touch support can finish their high school diploma or earn an industry-standard certificate, and then seamlessly transfer to Cypress College or Fullerton College, all at no cost.
"Our students are so amazing," beams Belinda Sanchez, NOCE's Special Project Coordinator for the Anaheim Pledge program. "A lot of them do have challenges in their lives, but they are very motivated to continue on to college."
Those challenges include financial disadvantages, full-time work obligations, learning disabilities, and parenthood. Some do not have enough credits to graduate high school, having either aged out or dropped out, and want to return to complete so that they advance their careers.
The Anaheim Pledge at NOCE ensures that students can complete their high school diploma and/or career education certificate, laying the groundwork for higher education and in-demand careers. Because all NOCE classes are noncredit, graduates can take full advantage of the North Orange Promise and still receive two years of tuition-free community college when they transfer.
"I see NOCE as that bridge for the non-traditional student who, for whatever reason, couldn't complete that high school requirement," says Tina Arias Miller, Director of Special Projects at the North Orange County Community College District (NOCCCD). According to Miller, NOCE is a springboard to success for students, who take advantage of the program's support to overcome hurdles and open doors to higher education and higher paychecks.
Tuition is completely free at NOCE, for both the high school diploma and career education certificate classes. Students participate in the Anaheim Pledge program for up to two years and can graduate at any point throughout the year with their high school diploma.
Since many of the students are working adults, the high school diploma  program offers flexible hours, featuring an open lab where they can set their own schedules. All classroom materials and textbooks are available for use in the lab, so students don't have to worry about extra costs. As NOCE campuses are closed due to COVID-19, classes are currently being held online. Additionally, any student who pursues a career education certificate can take advantage of the book loan program or even apply for a scholarship for textbooks or lab fees.
"We're definitely working with students and helping to support them as much as possible," says Sanchez, who believes the current health crisis highlights the need for this assistance more than ever.
Free workshops on resume writing and interviewing, as well as financial aid and applying to college, give students confidence—not to mention "insider tips"—to move forward. Offered in partnership with Adult College and Career Transitions (ACCT), the NOCE Career Resource Center, as well as Cypress College and Fullerton College, the workshops connect students to critical resources and opportunities.
One of the biggest game-changers for Anaheim Pledge students is meeting with counselors at least once per term. From making sure they are registered for the right courses to offering motivation, counselors are the coaches who guide students along the right path. Dedicated to student support, these future-mapping MVPs are always willing to go the extra mile to help students succeed.
"The counselors are also amazing at seeing what other support services students might need, whether it is tutoring, a disability support service, or resources for basic needs like food, the counselors are key in connecting students so that they can succeed," says the Sanchez, who regularly reaches out to students to bolster their progress.
Since its first cohort of 76 students in 2018, the Anaheim Pledge program at NOCE has already seen graduates successfully transfer to partnering colleges. And though courses had to move online this semester due to the pandemic, students are still on track for their diplomas and certificates, with more graduates expected to transition soon. 
The continued stability is thanks to NOCE's outstanding teamwork, which managed to transition classes to a virtual platform without a hitch while simultaneously boosting support.
Students now have access to more individualized appointments via phone and Zoom, as well as special video conference workshops covering topics like online studying tips. NOCE also provided emergency aid food vouchers and a laptop loan program for qualified students to help them stay on track to reach their goals.
"I think it's so important to still have that support for them and to be able to provide the training they might need to find a job," says Sanchez. "And of course, receiving a high school diploma is going to be absolutely essential for a lot of these students."
With the health crisis stressing many families that were already under financial strain, the extra support from the Anaheim Pledge is crucial for keeping students motivated and moving forward. And as the economy continues to adjust, demand for services like these are expected to increase.
"There is going to be an even greater need for these grant funds through the North Orange Promise and Anaheim Pledge," says Miller. "Some of our students contend with housing insecurities. If they didn't get evicted from their homes, they still might have to catch up on rent… Any money they make is going to go into back paying their bills and debt."
With the Anaheim Pledge supporting educational pathways to higher education and the Promise ensuring financial assistance for college, Miller says the program will continue to grow, offering more services and maintaining a lifeline for students who need a community of support.
That's why NOCE is offering virtual information sessions on the Pledge program for prospective students, starting in May and continuing throughout the summer. These sessions will highlight program benefits and support services while going over the steps to enroll. Staff will be on hand to discuss how high school diploma and career education courses work, and to share advice for navigating the online platform. Future students can also sign up for individual virtual appointments if they have specific questions or need help with enrollment.
"We feel like a family for a lot of our students," shares Sanchez, who is proud to be a bridge for those she serves. "They know that they have people they can count on. With our current situation, I think having that support for them is essential for their success."