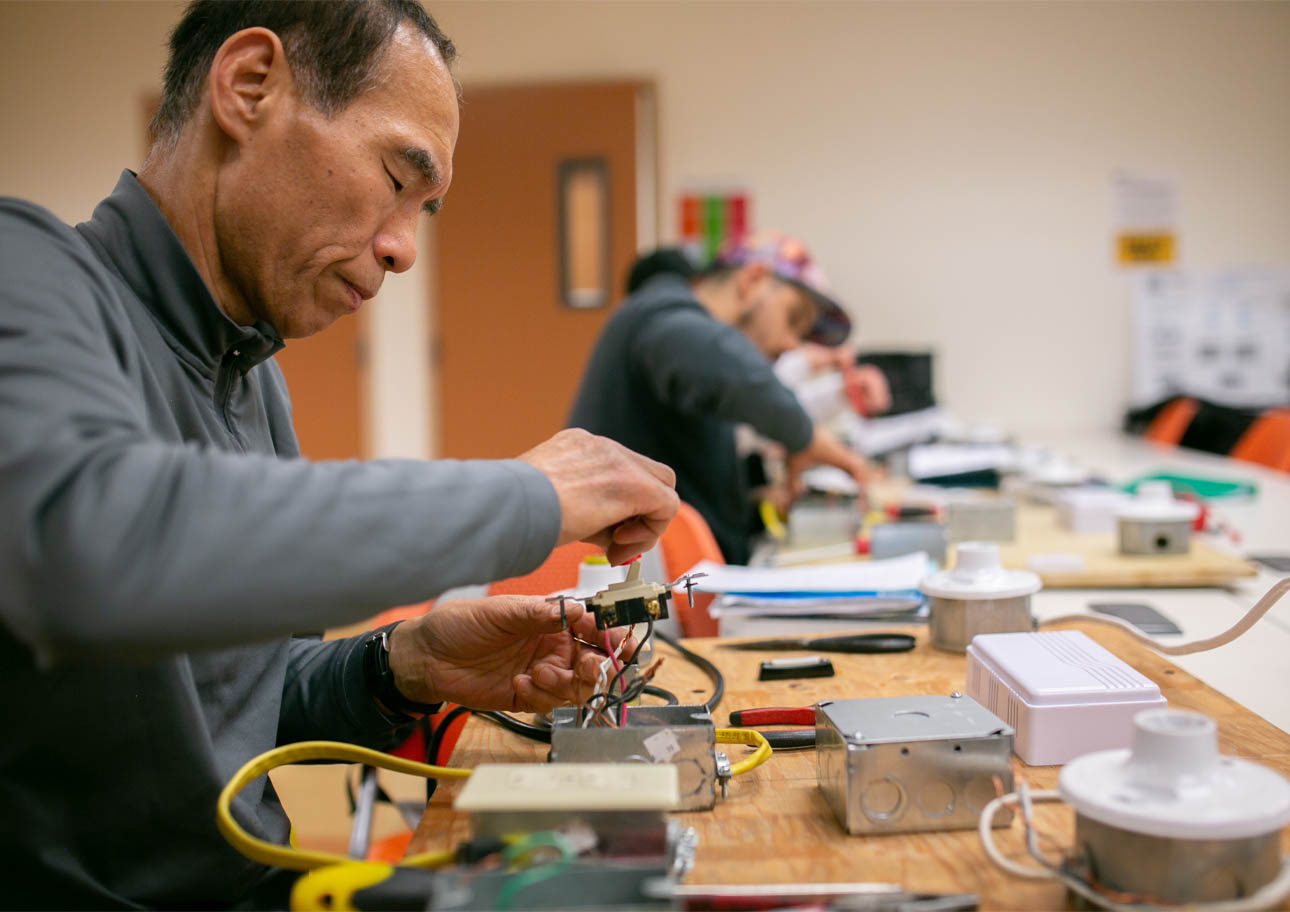 Photo Caption: NOCE Electrical Technology students learn the latest techniques to install, maintain, and repair electrical equipment to meet the increasing demand for skilled employees in the field. 


June 07, 2019.



---
In adult education, we often visualize the classroom-to-career continuum as a "pathway" — a GPS-direct expressway from "point A" to "point B."
In reality, the relationship between education and employment is more like a spiderweb — a complex network of contact points and feedback loops, with load-bearing threads in language, training, "soft skills," parenting, and more. It's a structure that requires not only constant maintenance, but also constant innovation.
In essence, NOCRC is the five-legged spider at the center of this web, working with Orange County businesses to anticipate both community and workforce needs. According to Director Janeth Manjarrez, these regional partnerships empower the NOCRC workgroups to stay on the cutting edge, delivering tailor-made solutions to close skills and achievement gaps.  
"The intent is to create a centralized pipeline, through NOCRC, where we become the referral source between regional partners, to expedite the hiring process in finding qualified candidates," says Manjarrez.
Regional employers like Ralphs and Orange County Transportation Authority are working with NOCRC partners to build savvier, more prepared employees, and new collaborations are always being sought…
Why Partner With NOCRC?
#1. Find Qualified Candidates Faster…  
Expansion is expensive. According to UC Berkeley's Institute for Research on Labor and Employment (IRLE), the average cost of hiring a new or replacement employee is $4,000, with most of that budget going to recruiting and training.
Meanwhile, Orange County industries are moving faster than ever, requiring businesses to constantly re-adapt to the shifting landscape, often with very little time to spare. That's where NOCRC comes in…
NOCRC's versatile adult education services work together to provide a self-sustaining conduit between classroom and career. Students receive the focused support they need to hit the ground running in their new positions, while businesses benefit from smoother, more efficient, and less expensive transitions.
"We can provide those employability skills now," says Manjarrez.
#2. Connect to Custom Solutions.
There's strength in specificity, and when it comes to the unique workforce demands of Orange County businesses, there's no "one-size-fits-all" solution.
NOCRC's adult education offerings encompass not only workforce readiness and on-the-job-training, but also specialized career prep services through its Career and Technical Education (CTE) and Disability Support Services (DSS) workgroups. The latter group, for example, works with business and industry partners to find "placements" — mutually beneficial employment relationships that address business needs while breaking down traditional barriers for the student.
"We're in the business of filling gaps — gaps in student needs, gaps in services, and gaps in community and business needs," says NOCRC Special Projects Manager Kenneth Kiesselbach. "We pride ourselves not just in making data-driven decisions, but in listening to the community and those we serve."
#3. Access a Higher Caliber of Career Professional.
Employers know the subtle difference between a good worker and a good employee. A good worker is adept and knowledgeable, with undeniable "hard skills" and tech-savvy. A good employee is all of these things, plus professional — bearing critical "soft" skills like etiquette, attitude, teamwork, and flexibility.
Orange County businesses benefit from NOCRC's holistic approach well before the actual hire. By emphasizing "pre-employment skills" like resumé writing, managing online presence, and interviewing, NOCRC's partners are helping prospects create a clearer picture of their attributes, which saves time and effort for potential employers.
"There's readiness from a career education standpoint," says Kiesselbach. "But just as importantly, there's readiness in the interpersonal arena and ensuring that students are developing … skills that will help them in any area over the long term."

#4. Hire with Confidence…to the Core.
By 2025, California is expected to face a paralyzing shortage of more than 1 million "middle skills" employees, and Orange County businesses are already being affected by this "skills gap."
By working with NOCRC to identify, anticipate, and bridge this gap, Orange County businesses are building an invaluable infrastructure for the future. And, according to Kiesselbach, it goes far beyond simple job skills. Employers collaborate with NOCRC's workgroups to identify "core competencies" in specific industries, which in turn drives decisions made around the adult education curriculum.
"If we can work with them to fulfill the need for our students to find employment in well-paying jobs, while at the same time fulfilling a need for employers to find workers that are skilled not just technically but interpersonally, then that's a tremendous mutual benefit," says Kiesselbach. "It's exactly what we're here to do."
#5. Always Be Adapting.
NOCRC's biggest organizational strength, by far, is its versatility. With adult education partners working at virtually every point of the enrollment-to-outcome pipeline, need-specific programs can be added, expanded, or improved with agility.
Orange County businesses collaborate with NOCRC partners on a foundational level, letting their current and anticipated needs drive the career education curriculum. As a result, these employers can adapt to new industry paradigms almost immediately, pivoting gracefully to technological trends.
"What do employers need? What expectations do they have for future workers?" asks Manjarrez. "We invite partners to discuss beyond the program level, to understand how best to serve the community in a centralized, regionalized manner."
NOCRC is an adult education consortium serving Orange County communities through opportunities in basic skills, high school diploma, career education, disability support services, ESL, parenting, and more. Want to work with NOCRC to develop custom career education pathways to support your business? Contact NOCRC Director Janeth Manjarrez at jmanjarrez@noce.edu.