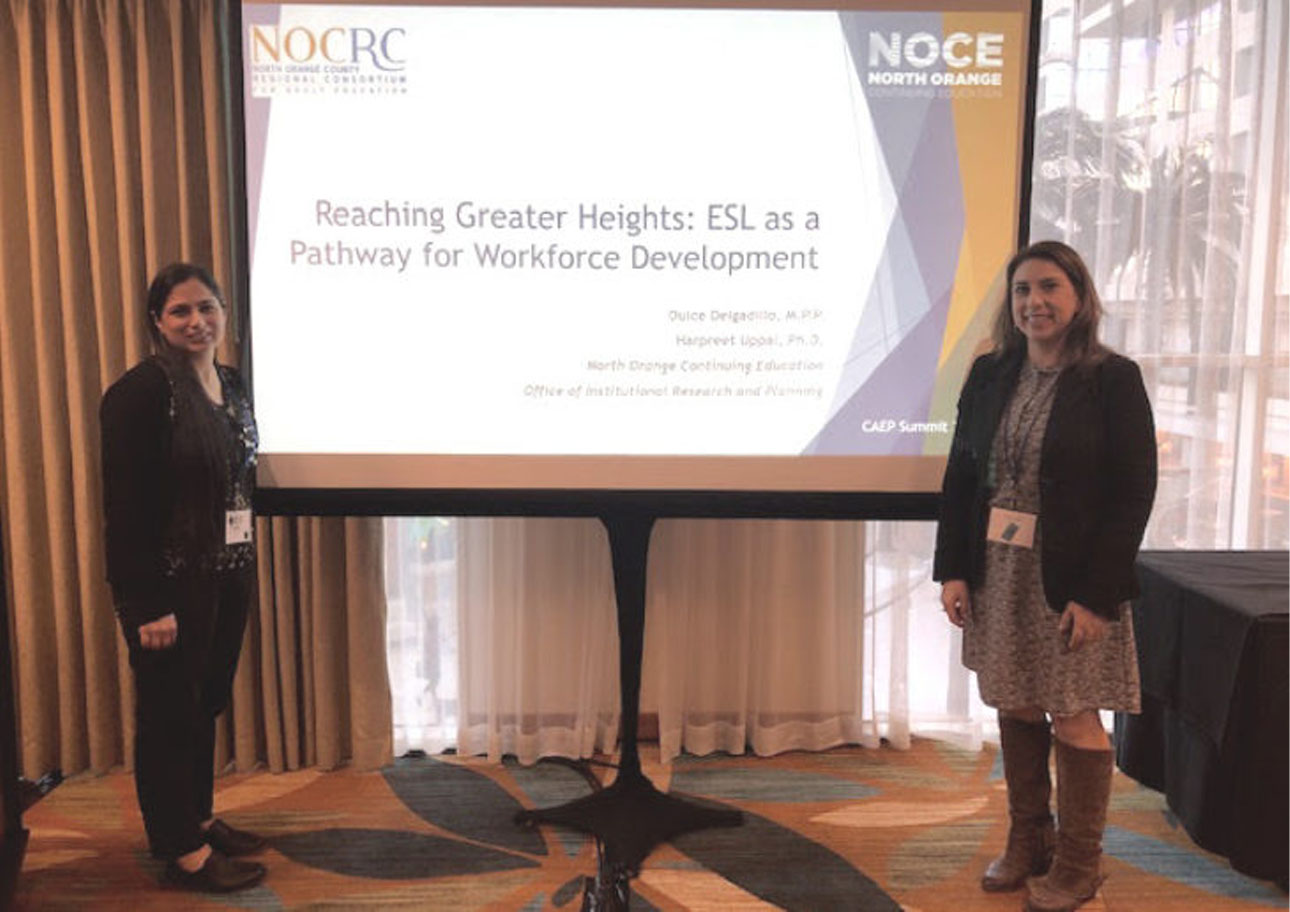 December 19, 2019.
---
The members of the California Adult Education Program (CAEP) will need to be courageous, responsive and flexible in the face of impending challenges. That was a key message from Dr. Cheryl Marshall, Chancellor of the North Orange County Community College District (NOCCCD), in her opening keynote presentation titled "Hearts, Brains, and Growing Pains," at the recent CAEP Summit. She talked about the "turbulent changes" occurring within CAEP and the challenges that involve performance metrics, data integrity and uncertain funding.
The conference, which took place on Oct. 29-30, 2019, at the Hyatt Regency in Garden Grove, was titled "The Future is NOW—Put Your Plan into Action." Hundreds of teachers, coordinators and administrators from the 71 adult education consortia were in attendance.
The CAEP Summit was an opportunity for regional consortium members to share best practices and learn from one another, said Janeth Manjarrez, Director of the North Orange County Regional Consortium for Adult Education (NOCRC).
 "We had the opportunity to connect and figure out what's working and what isn't," Manjarrez said. "And we can build our community together to get support so we can continue to serve our adult student population and meet CAEP outcomes," she said.
Meeting the needs of students in distinct regions of the state requires more collaboration, and a review of members' plans shows there is strong interest, Dr. Marshall said. For example, 30 percent want to improve coordination and collaboration and 30 percent are interested in matching programming to correspond with partners' plans. Twenty-three percent want to grow or leverage adult education partnerships.
The conference offered various breakout sessions on topics including transition to college, pre-apprenticeship and apprenticeship programs, improving achievement in jail classes, pathways to career and technical education for students with disabilities, and empowered communities.
NOCRC and North Orange Continuing Education (NOCE) staff and faculty members led three presentations. Dulce Delgadillo and Harpreet Uppal of the NOCE Office of Institutional Research and Planning discussed a survey taken by adults in the English as a Second Language (ESL) program Their presentation focused on best practices and survey methods that have helped with data collection for the ESL Program, with the purpose of understanding the educational backgrounds, career interests and work experiences of their ESL students. Delgadillo and Uppal discussed the results of the study, and how those findings can influence the tools they provide students to ease the transition from ESL to workforce development.
Manjarrez and Hilda Rivera, NOCRC's ESL Special Projects Manager, discussed the CAEP ESL Mentorship Program. This presentation featured the benefits of the Mentorship program and the success that the program has seen. Through this program, ESL students can get assistance in creating a clear pathway to furthering their education. The Mentorship program aids mentees in entering, choosing, and staying on their education pathway through guidance and providing helpful information. Mentees are assigned a peer mentor for two semesters to accomplish these goals and ensure their academic success.
The mentors are former NOCE students who have transitioned to Fullerton College or Cypress College, so they have first-hand knowledge of the struggles students may face in navigating their education. They are able to guide mentees through the application and financial aid processes, assist with class registration, give campus tours, and provide other assistance. This presentation also emphasized the importance of partnerships between non-credit and credit colleges to ensure the success of the students.
Erin Sherard, a full-time faculty member of NOCE under the K-12 Student Success Workgroup, also presented. Sherard shared the best practices of the Love & Logic strategy, which has been very successful. Sherard emphasized that with the help of these Love & Logic courses, students are more likely to: attend school regularly, earn higher grades and test scores, enroll in higher level programs, improve their social skills and behavior, get promotions in the workforce, graduate and go on to post-secondary education. Sherard explained these outcomes with qualitative and quantitative data, while simultaneously explaining how the program meets meet current MIS expectations.
NOCRC is thankful to CAEP for considering their team to be presenters at this year's Summit. NOCRC aims to continue to provide innovative ways for not only students, but also others in the adult education field, to keep moving forward.
The CAEP Summit was a great learning opportunity for all who attended, Manjarrez said. "Our common goal for the 71 consortia is to make sure that we build up our offerings in the five program areas and continue to meet the needs of the adult population."