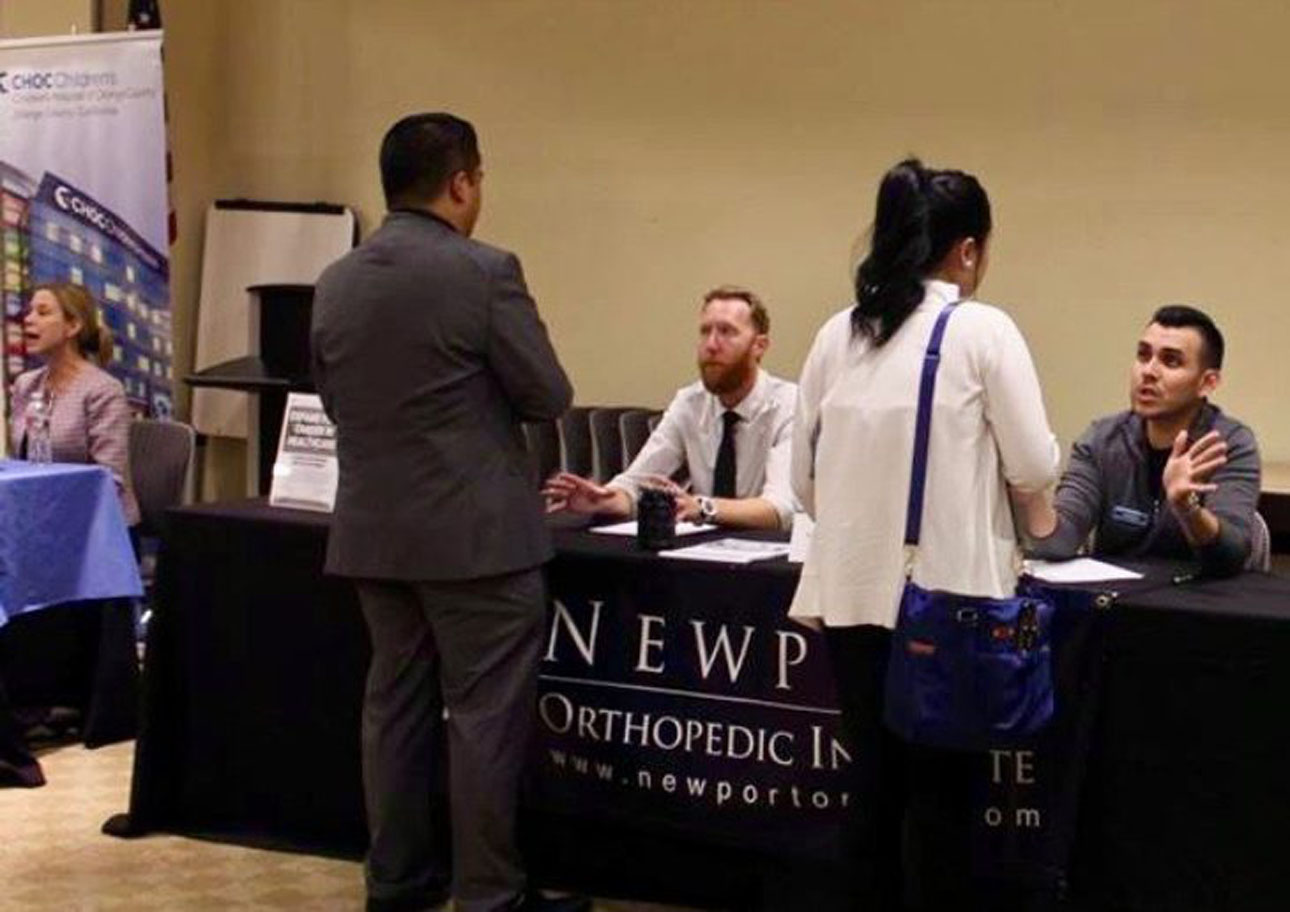 July 30, 2019.
---
For Julie Oropeza, a medical assistant student at North Orange Continuing Education (NOCE), the challenge of embarking on a job hunt became easier this year with the help of a series of career workshops that prepared her for a Career Fair held on NOCE's Anaheim campus. In an effort to help students find job opportunities, NOCE's Career Technical Education (CTE) Program hosted a Career Fair on May 16, 2019, featuring prospective employers from five industry sectors. The fair was attended by nearly 60 students, offering them an opportunity to talk one-on-one with eight local employers.
With the goal of preparing students to speak with potential employers, students were instructed to attend three career workshops before participating in the Career Fair: 'Resume Writing,' 'Interview for Success,' and one additional workshop of their choice offered by the Career Resource Center.
In these workshops, Career Pathways Specialists conducted mock interviews and provided instruction on how to tailor a resume to a specific field, among many other lessons. This allowed students to apply the skills they learned at the workshops in a real-world setting.
 "We also encouraged students to do their homework about possible employers before meeting them, and that included researching a company and its mission," said Denise Mora, CTE Special Projects Coordinator. "Students also were advised on appropriate questions to ask employers, such as, 'What is your work environment like?' The hope was to start conversations with employers."
Oropeza found the workshops, particularly on the topic of writing a standout cover letter, to be beneficial. She learned how to prepare for an interview, what to expect when meeting a potential employer, and what employers want to see from a prospective employee. "I also learned ways to approach the most commonly asked questions and to differentiate myself as a candidate," Oropeza said.
Mora was pleased that the event served as both an educational opportunity for students and a possible bridge into their new careers. "We wanted to give students an opportunity to network and to see the different types of positions that are available within their programs of study." 
In addition to the medical field, employers in attendance represented industries with jobs in early childhood education and management, as well as positions for administrative assistants and pharmacy technicians. CHOC Children's-Children's Hospital of Orange County, Crittenton Services, MediQuest Staffing, Newport Orthopedic Institute, Office Team Staffing, Think Together, Rx relief, and Precious Years Children's Center had representatives at the Career Fair. 
Unlike previous years, this year's event was held in the evening, from 5 p.m. to 6:30 p.m., allowing students with obligations during the day to attend. Organizers found the workshops helped increase students' confidence. That was true for Oropeza. "By attending the workshops, I was able to apply those skills that I learned and be more confident as I approached the company representatives," Oropeza said. "Learning the company's mission and vision prior to the fair, as well as preparing a pitch to introduce myself, having a resume and asking relevant questions about their company was helpful."
Ultimately, Oropeza felt comfortable balancing her professionalism with being herself. "The Career Fair gave me the opportunity to interact socially and professionally with other people and helped strengthen my communication skills," Oropeza added. 
Mora said it made her happy to see students evolve, and put every tip they learned into practice. "Some students were quiet and shy in the beginning, but now they have grown and developed themselves," she said. "It's exciting to see that as well."