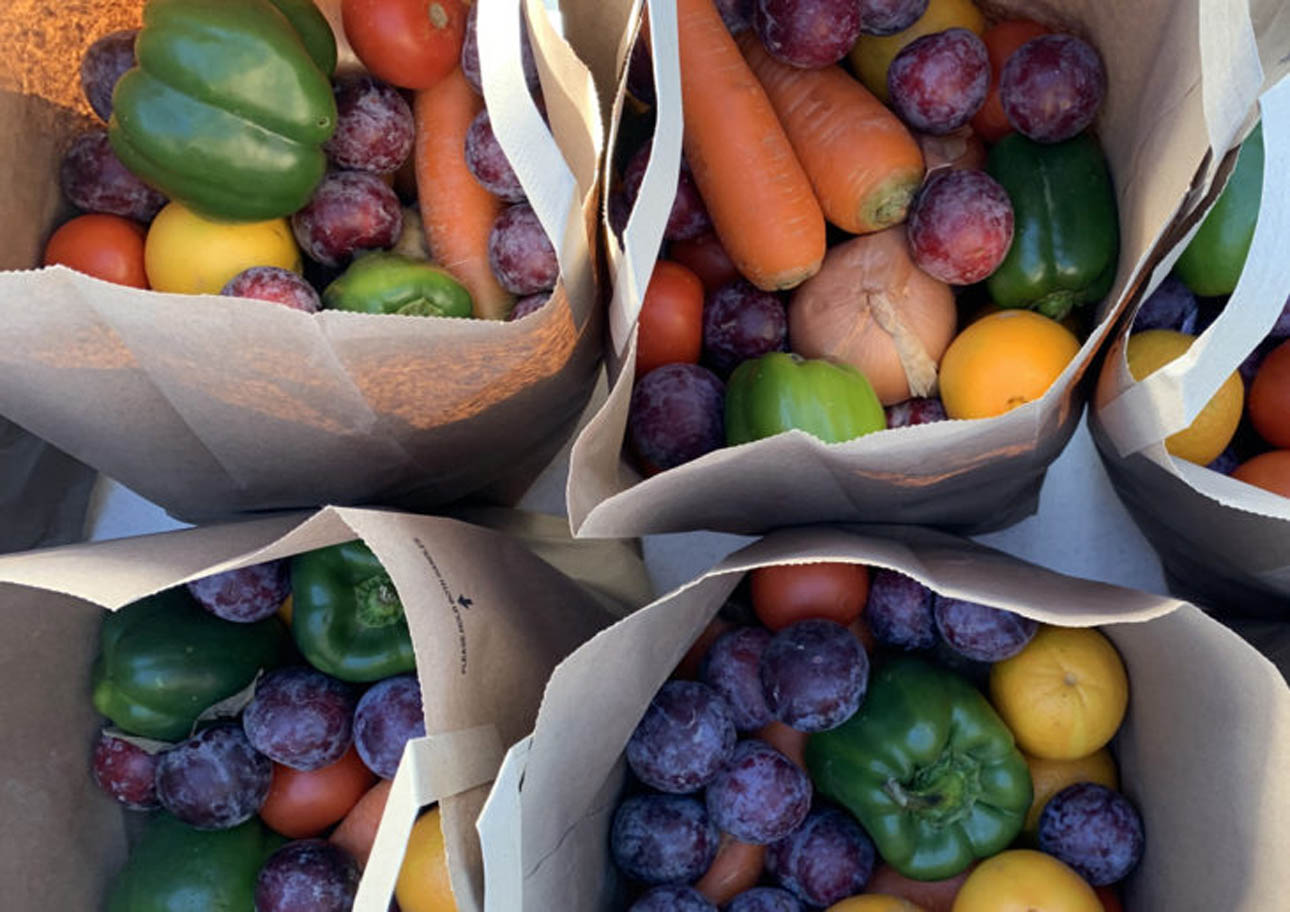 December 01, 2020

.
---
For the estimated 700,000 California community college students contending with basic needs insecurity, the complications of COVID-19 reach well beyond the classroom.
As Californians stockpiled supplies in the early days of the health crisis, the essential operations of food banks and direct human services slowed as volunteers scrambled to balance safety concerns with critical community needs. For Orange County students who depend on programs like the three food pantries within the North Orange County Community College District, the virus was not just interfering with socialization and travel, but with everyday survival.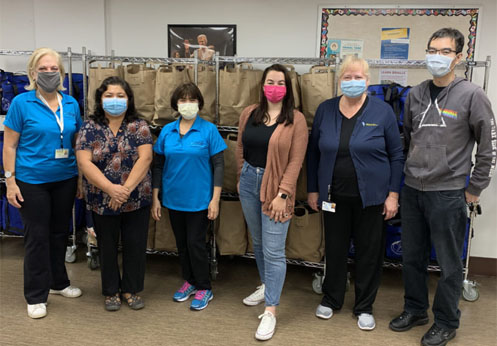 And while community colleges are well known for providing cutting-edge solutions, this particular problem would force local institutions like Fullerton College, Cypress College, and North Orange Continuing Education (NOCE) to go, quite literally, outside the box.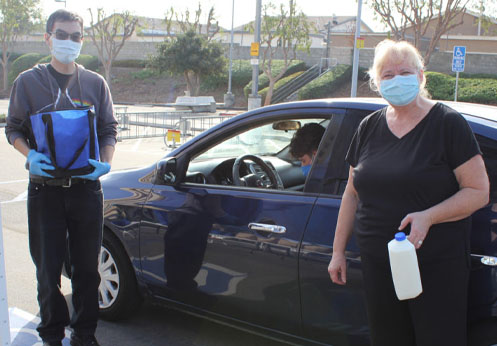 With roughly one-third of its student population at risk, NOCE undertook a broad effort to adapt existing basic needs services to social distancing times. Taking its cue from the "curbside pickup" trend in the restaurant industry and a similar effort at Fullerton College, NOCE innovated the "Food Pantry Drive-Throughs" campaign, bringing touchless grocery delivery to its Anaheim Campus.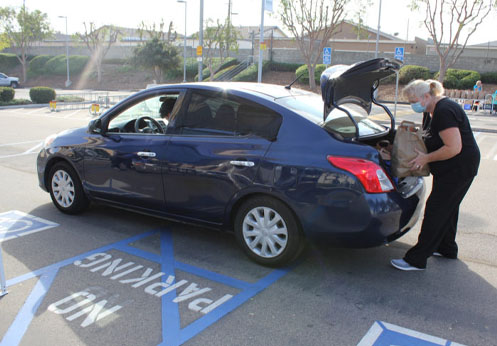 "We knew that the need was there," says Deborah Perkins, interim director of Counseling and Student Services at NOCE. "More than anything … even though they're [remote], we needed to be able to provide that support."
With food, hygiene supplies, and even diapers available by appointment via convenient drive-through or walk-up, NOCE committed not only to providing critical resources, but to delivering the sustenance struggling students and their families needed most: peace of mind.
"A lot of our students may feel alone," says Gutierrez. "It lets students know that we're still there for them."
NOCE's food pantry and the drive-through distribution events are funded by a combination of state grants and, more recently, federal CARES Act funding.
The food distribution efforts are just one of the ways that NOCE responds to critical student needs. As part of a vast network of community organizations, state agencies, and educational partners, NOCE and its sister colleges are in perfect position to offer students the support they need to persist.
"Because of the relationships that we've already established, we just have so many more opportunities to offer resources beyond what we'd normally be able to provide," says Perkins.
They're not doing it alone. Gutierrez is quick to credit NOCE's network of North Orange County partners, including Second Harvest Food Bank and community organization Pathways of Hope, which operates on-site food banks within the Cypress, Fullerton, and NOCE campuses. While NOCE staff cover much of the front-line packing and distribution, this supplemental support has proven instrumental.
"It's a great partnership," says Gutierrez. "They're experts at going into the community…with the resources they have, and partnering to provide the necessary support our community needs."
Since 1986, Pathways of Hope has rallied North Orange County's communities to provide resources for hungry and homeless neighbors. Last fall, the organization connected with NOCE, the regional community colleges, and other academic partners to offer its game-changing resources directly to students.
The timing of the union proved opportune when, just a few months later, the coronavirus began to wreak havoc on local higher education, canceling classes and threatening to tear in-person student services programs at the seams.
"With the outbreak…our agency and these colleges have had to adapt our programs to ensure that we are able to support students using methods that limit the risk of COVID-19 exposure," says Mychael Blinde, development manager at Pathways of Hope. "Only by joining together, pooling our resources, and supporting each other can we make a critical difference for people seeking help and hope during these difficult times."
Students can track distribution dates on social media and make appointments to accept their pre-packed box on a scheduled distribution date. A typical care package might include a bag of perishable groceries, including fresh produce, plus a bag of non-perishable groceries, hygiene kits, personal sanitation items, and baby supplies.
The program also connects students to "soft" resources, like life skills classes and transportation assistance, through Pathways of Hope's "Hub of Hope" and North Orange County college partners. Blinde hopes that, by exposing underserved students to a broader range of available opportunities, they will not only beat the odds to succeed, but carry the spirit of community fellowship forward.
"For 45 years, Pathways of Hope has been dedicated to supporting our community's most vulnerable residents," says the administrator. "We are thankful for our hundreds of dedicated supporters who make our work possible by donating goods, donating funds, and volunteering to support our programs."
And while the innovation of touch-free, drive-up grocery distribution is no doubt giving struggling students a lifeline in the present tense, NOCE's Counseling and Student Success department tends to see the effort as part of a larger commitment.
"At community colleges, we have some of the most vulnerable populations," says Gutierrez. "It's our goal to remove potential barriers so they can continue their education, meet their goals, and improve their quality of living—we're fortunate to have that infrastructure.
"If we invest in students' ability to have basic needs…that's an investment in our community."
Want to help NOCE and Pathways of Hope make a difference in your community?
Sign up to volunteer.
Donate online or mail a check made out to Pathways of Hope and mail to PO Box 6326, Fullerton, CA 92834
Anaheim Campus Food Pantry Drive-Throughs
Basic needs assistance, including food, hygiene products, diapers, and more, is available by appointment every other Friday between 9 a.m. and noon. View the Anaheim Campus Food Pantry Drive-Through flyer for more information or visit the Food Pantry page to schedule an appointment.