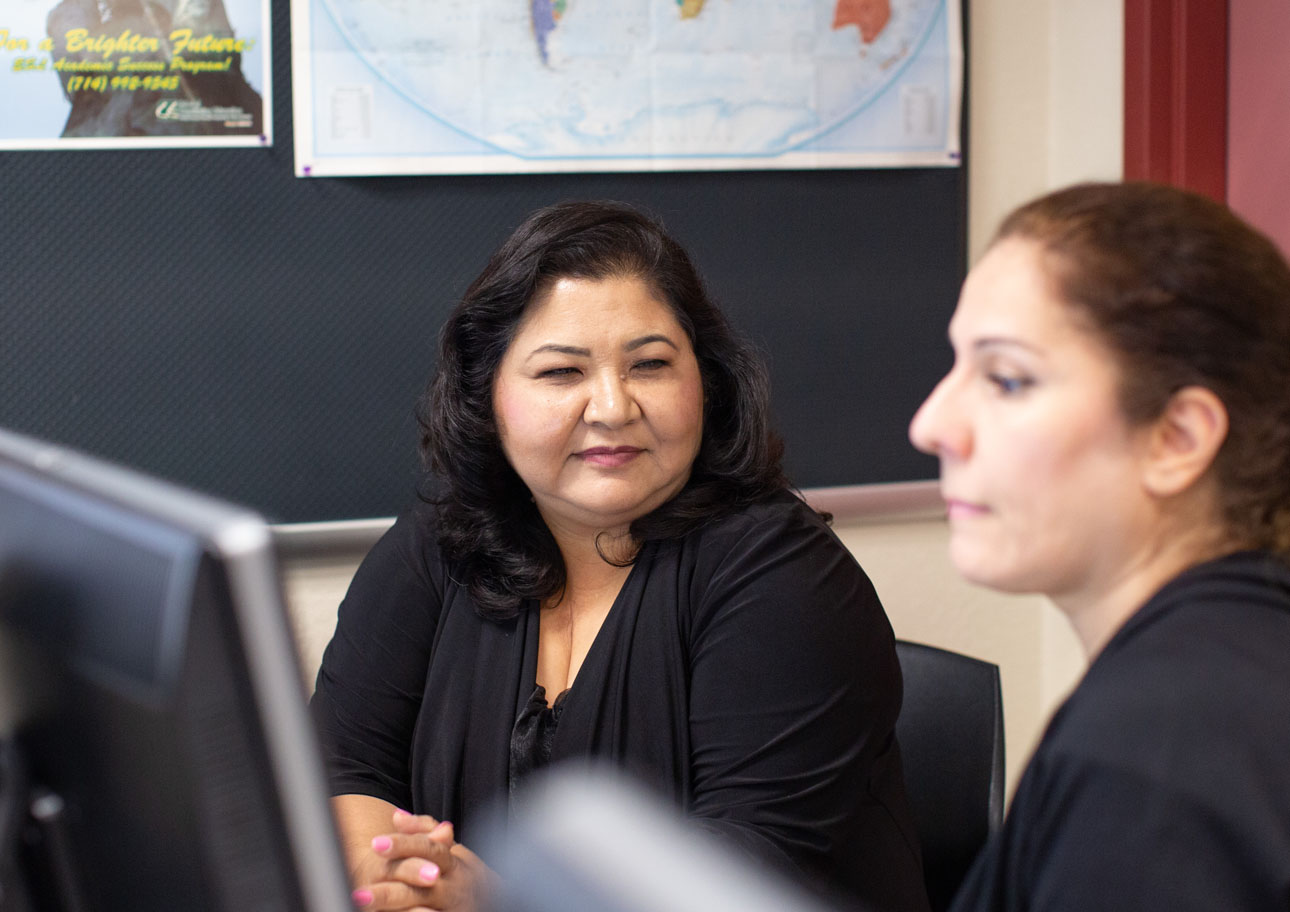 December 14, 2018.
---
When Hilda Rivera immigrated to the United States with her mother, she had almost nothing. She had no high school diploma. No English-language skills. And no job prospects. Finishing high school was never going to happen and college was a dream so impossible it had never even crossed her mind.
Today, Hilda not only has her high school diploma, but also an associate degree from Fullerton College, and a bachelor's degree, a teaching credential, and a master's degree from California State University, Fullerton.
It's an impressive rise, and it all started almost 20 years ago at North Orange Continuing Education (NOCE), a member of the North Orange County Regional Consortium (NOCRC) for the California Adult Education Program.
After immigrating to the U.S. in her early 20s, Hilda worked odd jobs at factories and restaurants in Orange County, dividing her earnings between paying for necessities and sending money to her two remaining sisters in Mexico. Knowing that her job prospects would remain limited if she didn't learn English, Hilda started taking English as a Second Language (ESL) classes at NOCE. It was there that she heard about NOCE's High School Diploma Program.
"In Mexico, you have to pay for high school, and since we were so poor, we couldn't afford it," says Hilda. "I never thought graduating high school would be possible. So, when I saw that it was not only possible but also free at NOCE, it seemed too good to be true. My only problem was, my English wasn't good enough."
Over the next couple of years, Hilda continued taking ESL classes, got married, had a daughter, and finally passed the English entrance exam for NOCE's diploma program.
"I remember vividly how hard that test was," recalls Hilda. "It made my stomach hurt. And I was sure I had failed it."
But she didn't. In fact, she passed with flying colors. Hilda, who was in her mid-20s at the time, had finally made it to "high school." Unfortunately, the hard part was yet to come.
"Even though I'd passed the language exam, my English still wasn't very good," recalls Hilda. "That made all the classes hard. Plus, I was working full-time, raising my daughter, helping my mother who didn't drive or speak English, and I was still taking ESL classes. Sometimes I went for 15 hours a week. Sometimes I could only go for 30 minutes."
Despite these challenges, Hilda persevered, and turned her dream of a high school diploma into a reality. Was college next? No. It had never even occurred to her.
"In Mexico, going to college was even more impossible than finishing high school," says Hilda. "Even as I was about to graduate, I never even considered college as an option. It was just so out of my reach. It never occurred to me that I could do it."
But as Hilda listened to NOCE High School Diploma Program Instructor Marsha Elliott
give the graduation day speech, everything changed.
"She was talking about going to classes and how we'd all become 'good at going to school,'" says Hilda. "And then she said, since we were good at it already, maybe we should just keep going and continue to college. That's all it took. I suddenly felt like I could do it."
And Hilda did.
She had two more children, went through a divorce, continued working full-time as a single mother raising three daughters, took care of her mother, and not only completed her associate degree at Fullerton College, but also continued on to California State University, Fullerton, where she completed her bachelor's degree in Human Services, a multisubject teaching credential, and a master's degree in Education.
Today, Hilda is back where she started at NOCE. The only difference is, she's no longer taking ESL classes, she's teaching them. Or at least she was, before she became the Special Project Manager for the ESL Mentorship Program at NOCRC.
In her current role, Hilda's job is to develop and implement a program that places qualified students with mentors to help them get into and succeed in college.
"When I first started at NOCE, I didn't know anyone that had finished high school, let alone college or graduate school," she says. "I thought it was all impossible and there was no one in my life to show me or tell me that it wasn't.
"That's the kind of support we want to provide. We want our students to believe that they can finish high school and go to college, and then we want to help them achieve these goals."
In a little over a year, NOCE's ESL Mentorship program already has 42 students, and is growing quickly. "We started with two students and two mentors," says Hilda. "We now have 42 students and four mentors and will probably need to hire a fifth mentor soon. It's a good problem to have!"
Hilda's mentees aren't the only ones who are learning from her example—her eldest daughter earned a bachelor's degree in Psychology and has plans to get her master's; her middle child is attending Fullerton College; and her youngest is preparing to graduate high school.
"Attending college is not just for us," reflects Hilda. "It's for our children. It's to set an example for the generations to follow.
"They need to know they can do it!"