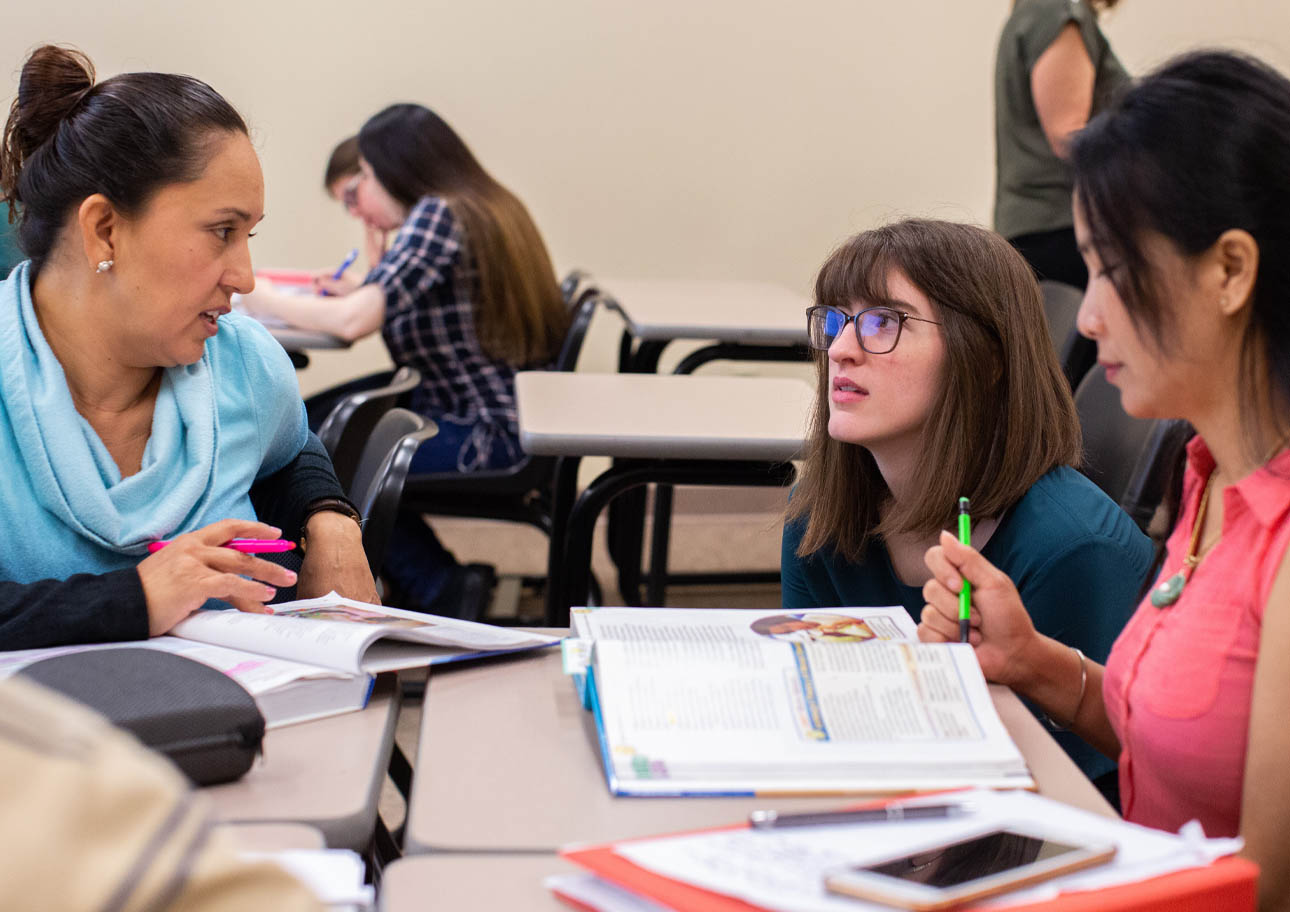 November 26, 2019.
---
It's easy to see why many adult students struggle to complete their coursework after years have passed since they last stepped into a classroom. Maybe they're not familiar with new technology, their English is not proficient, or they are simply overwhelmed with the amount of information being covered in the class.
To help with the transition back into the school environment, North Orange Continuing Education (NOCE) is offering an innovative yet simple way to help students stay on track: an instructor who can assist students in the areas where they need the most help in the course, more commonly referred to as an I-BEST instructor.
The Integrated Basic Education Skills and Training program, known as I-BEST, adds a co-instructor to specific classes to assist students in developing the skills they need to stay on track with instruction and complete the course. 
"Here at NOCE, we have a lot of students who can benefit from this additional instruction," explains Raine Hambly, Director of Career Technical Education at NOCE. "Maybe it's their first time back to school in a long time, so studying and note taking are a struggle. Sometimes medical terminology is difficult. Many of our students have language deficiencies. Having additional support in class can help that student with study or time management skills, workforce readiness, or whatever else they need."
NOCE is the first educational site in Orange County to offer the service with funding from the North Orange County Regional Consortium (NOCRC). I-BEST is offered only at NOCE, and made possible by the California Adult Education Program (CAEP), which funds the I-BEST support instructor.
An I-BEST instructor is not a tutor, but rather someone who helps students break down concepts to help the student better understand them. These I-BEST instructors offer hands-on learning support to help students learn at their own pace.
If students in the class have questions about the material, for example, the I-BEST support instructor might pose questions to the CTE instructor, modeling behavior that encourages students to do the same. They might use the board to demonstrate how notes should be taken, or further explain topics the class may be having trouble understanding.
Another instance when an I-BEST instructor would help in the classroom would be in a Pharmacy Tech class. The instructor often dissects medical terms to give English language learners a better grasp on their meaning and context. Whereas, the support instructor might lead a class on soft skills, such as communication in the workplace. This allows the students to get the most out of their classroom experience with both the instructor and support instructor.
Students in Administrative Assistant, Early Childhood Education, and Medical Assisting courses, among other career education programs, have access to I-BEST classes as well. NOCE currently offers 13 I-BEST classes—a dramatic increase from 2015, when only Pharmacy Tech was offered. I-BEST is offered only at NOCE, through the California Adult Education Program (CAEP) that funds the I-BEST instructor.
"We start with foundational courses, with the idea that if you can grasp the knowledge early on you'll be more successful in the higher-level courses," says Hambly.
Students find out about I-BEST in several ways. Counselors might recommend that a student look for a class that includes an I-BEST instructor if they feel it could be beneficial. I-BEST classes are clearly marked on the schedule, and there are outreach events to get the word out. Approximately 200-300 students take advantage of the program each term, and just over 1,000 have taken an I-BEST course since program inception.
"The curriculum is the same. The syllabus is the same. The texts are the same" as in a class without an I-BEST instructor, notes Kenneth Kiesselbach, Special Projects Manager for CTE and I-BEST. "The difference is that the students who need it have double the support with this extra instructor."
Kiesselbach says students who use the I-BEST program are generally very satisfied, and they find the additional level of support conducive to their success in the classroom.
An internal study conducted by the NOCE Office of Institutional Research and Planning found that "students who enrolled in both I-BEST and non-I-BEST courses were more successful and less likely to drop out of their I-BEST courses compared to their non-I-BEST courses. Furthermore, nearly half of these students completed a certificate in their program of study."