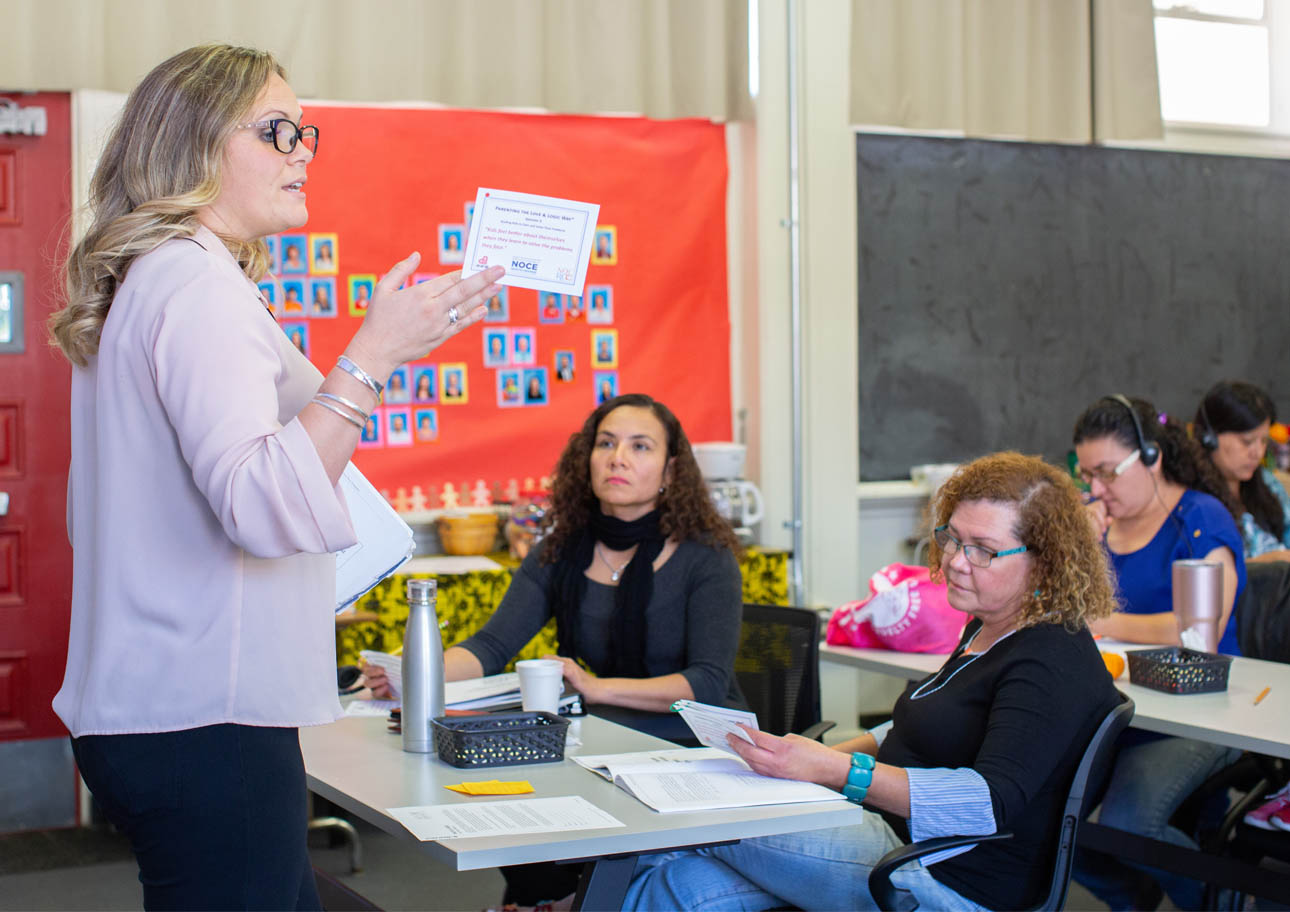 October 30, 2019.
---
The North Orange County Regional Consortium (NOCRC) has updated the name of one of its signature programs. K-12 Student Success, formerly known as Supporting Adults for Student Success (SASS), will retain the same focus, which is to promote academic success in students by supporting parents, teachers, caregivers, and others who play roles in their day-to-day lives.
"The name change is simply to make it more in alignment with the state's program areas," says Renee Day, Special Projects Manager for NOCRC.
K-12 Student Success partners with NOCRC members and community agencies to address the needs of adults who are working with or parenting children and youth. "Our primary focus is supporting the adults who serve or care for our K-12 students, so that students will grow socially and emotionally, and be able to learn while in the classroom" says Day.
To meet the needs of the community, K-12 Student Success and NOCE offer multiple Love & Logic®classes and workshops in the community, such as Parenting the Love and Logic Way®for parents and caregivers, and for educators, The 9 Essential Skills for the Love and Logic Classroom®. In addition to these, they offer courses for those who serve children with special needs (Love and Logic: Supporting Youth with Special Needs™) and children who have experienced trauma and have challenging pasts (Love and Logic: Supporting Youth with Challenging Pasts™).The courses and workshops are free and open to the public.
Trauma-Informed conferences on the horizon
On Friday, Oct. 11, the Anaheim Union High School District (AUHSD) held its second annual Parent Leadership Conference, "Engaged Communities Build a Strong Democracy." AUHSD Superintendent, Michael Matsuda, gave the keynote address. Matsuda has been nationally recognized for his efforts on innovation, entrepreneurship, and building creative collaborations. He has also been honored as one of Education Week Magazine's twelve national "Leaders to Learn From" and earned the "Visionary Education Leadership Award" from Cal State University Fullerton. The NORCR K-12 Student Success workgroup was a major sponsor of the event.
Love and Logic®facilitators and NOCE faculty, Erin Sherard and Jamie De La Mora, led a break-out session on Adverse Childhood Experiences (ACEs). They presented information to parents on how their own childhood experiences affect their current parenting styles. They were able to help parents understand the many faces of trauma and how trauma affects the brain of their child's rapidly developing brain. Other speakers focused on providing emotional support to students and their families, community leadership and organizing, and leveraging funding to meet the needs of the community.
On Nov. 13 and Nov. 14, K-12 Student Success will sponsor their second annual Building Trauma Informed Communities conference, featuring Jedd Hafer of the Love and Logic® Institute. Hafer will present on trauma and intervention as he has over 20 years of experience working with youth in treatment centers and alternative schools. His learning experiences are now the basis of his training for professionals and parents. As a former comic, his presentations are well known for their humor and energy.
Wendy Mielke and Dawn Ledesma of Crittenton Services for Children and Families will present an overview of current trauma research and ACEs. Crittenton is a child advocacy and mental health agency offering professional, trauma-informed care. Conference participants will gain an understanding of the effects of trauma on the brain and will learn techniques to improve their own resilience while working to strengthen resilience in youth.
The audience will also hear from Justin Campbell, whose mission as the co-founder of 2045 Consulting is to bring healing practices to organizations to promote love, safety, kindness, and belonging, unburdened from bias and prejudice. Campbell has hosted workshops and trainings on organizational healing across the country, and is also a certified trauma professional who integrates a trauma-informed perspective into his workshops.
The conference will be held at Great Wolf Lodge in Garden Grove. It is free and open to the public. For more information, please contact Renee Day.