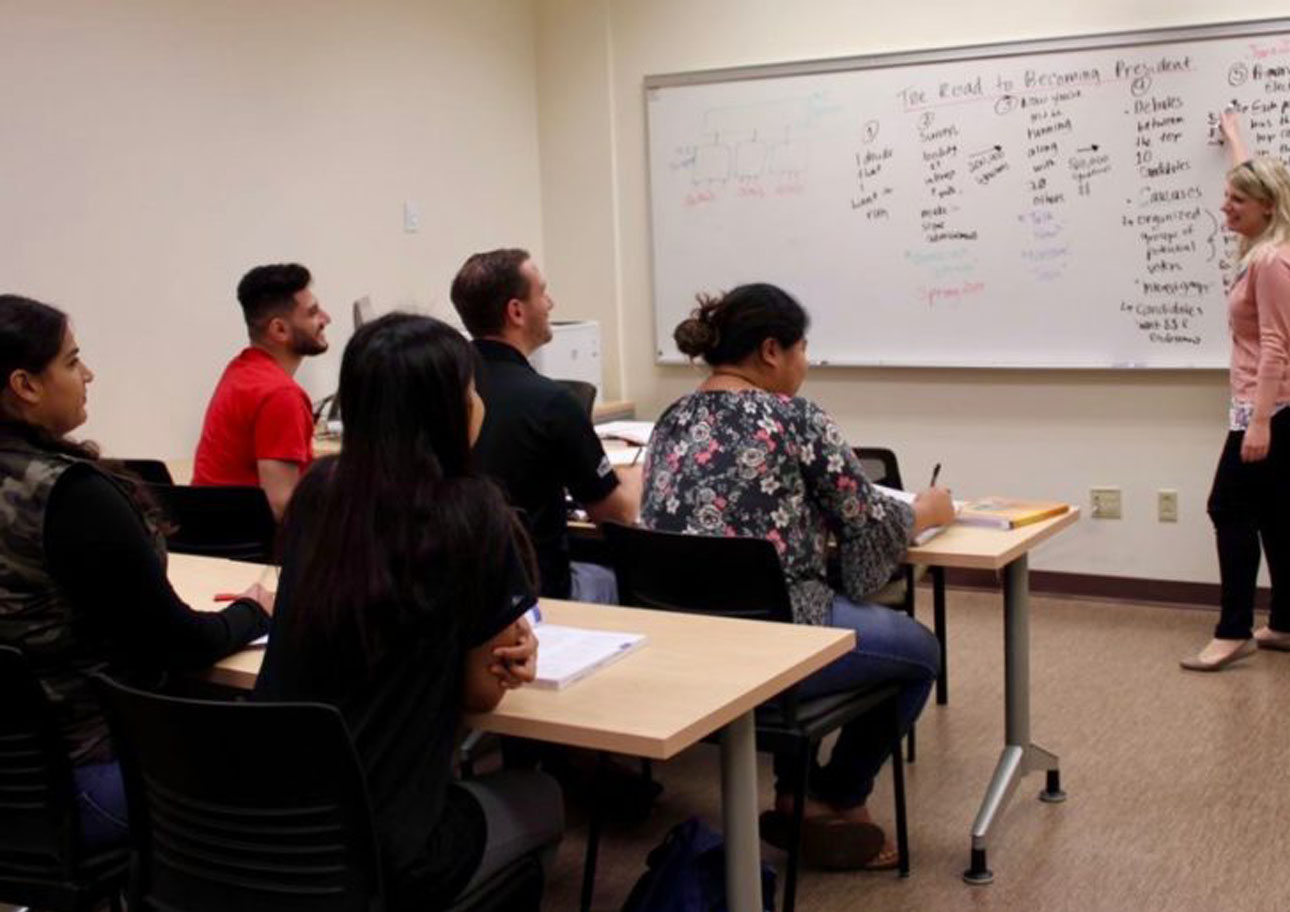 September 23, 2019.
---
For David Vicuna, preparing for the high school equivalency exam is shaping up to be life-changing.
Vicuna, who does not have a high school diploma, has occasionally had difficulty finding employment. He held a few solid positions in manufacturing, but they often required that he make the sacrifice of moving far away from his family. Lately, Vicuna's decision to work towards his high school diploma is giving his career a boost. "It was hard to go back to school," he said. "Now I think I might go on to college."
After being out of the classroom for 30 years, Vicuna is now enrolled in the GED/HiSET Preparation Program through North Orange Continuing Education (NOCE), a member of the North Orange County Regional Consortium (NOCRC). The program provides a supportive class atmosphere and many resources to help determined students, like Vicuna, prepare for high school equivalency exams such as the General Educational Development (GED) and High School Equivalency Test (HiSET).
NOCE's program is making it easier for students to prepare for these exams and reach their academic goals, among friendly instructors and peers. The program recently opened a new classroom that uses online resources, textbooks, and GED/HiSET preparation software to prepare students for the official GED or HiSET exams. Located in Room 136, 1830 W Romneya, Anaheim, the classroom is equipped with new PC laptops. This is crucial for students because the GED exam isadministered solely via computer, and the HiSET exam is offered via computer and on paper.
NOCE offers a variety of GED and HiSET preparation lessons that are assigned through advanced test preparation software programs such as Aztec. Lauren Maynard, Basic Skills adjunct faculty member, teaches internet-based lessons including those that help students learn how to type and use a mouse. "Some of our students haven't used computers before, so we teach them the basics and build confidence," said Maynard.
"I was nervous coming into the program, [but] NOCE is a good place to start," said Vicuna. "It's stress-free with great teachers who make you feel welcome."
Passing the rigorous exams can lead to better employment opportunities and higher wages, according to the U.S. Census Bureau. High school graduates earn roughly 50 percent more annually than those without a degree. It's also a gateway to college and greater self-esteem.
NOCE's program is tailor-made for individuals who were unable to complete their high school education for many different reasons, including having to support their families or becoming parents at an early age. "It feels pretty promising," said Vicuna. "I feel more confident about my future."
Launched on April 1, 2019, the program's classes are held on the Anaheim campus, and are tuition-free for adults 18 and over. Books and other test preparation materials in both Spanish and English are available to students in the classes.
"It's important for students to know that exam subjects for both the GED and the HiSET are offered in English and in Spanish, which is why we supply many materials in both languages," said Michelle Bringman, NOCE Special Projects Manager, Basic Skills / High School Equivalency. "By allowing students to use textbooks and preparation books in Spanish, they can prepare to take the GED or HiSET in Spanish, if they prefer."
Each class features adjunct instructors who fine-tune their teaching styles to fit individual students' needs. In-class tutors are also available for extra assistance.
The classes, which can be taken part-time or full-time, meet on weekday mornings and evenings, offering instruction in math, science, language arts, reading/writing, and social studies— the subjects that are covered by the GED and HiSET exams.
The same group of students attends each class, which "encourages a social support structure that benefits them," said Bringman.
Vicuna appreciates that approach. "I see the same students in all my classes and that is a good part of the program," he said.
Maynard said enrollment is at more than 80, and students range in age from their 20s to their 60s. "This will be an accomplishment for both themselves and their families," she said.