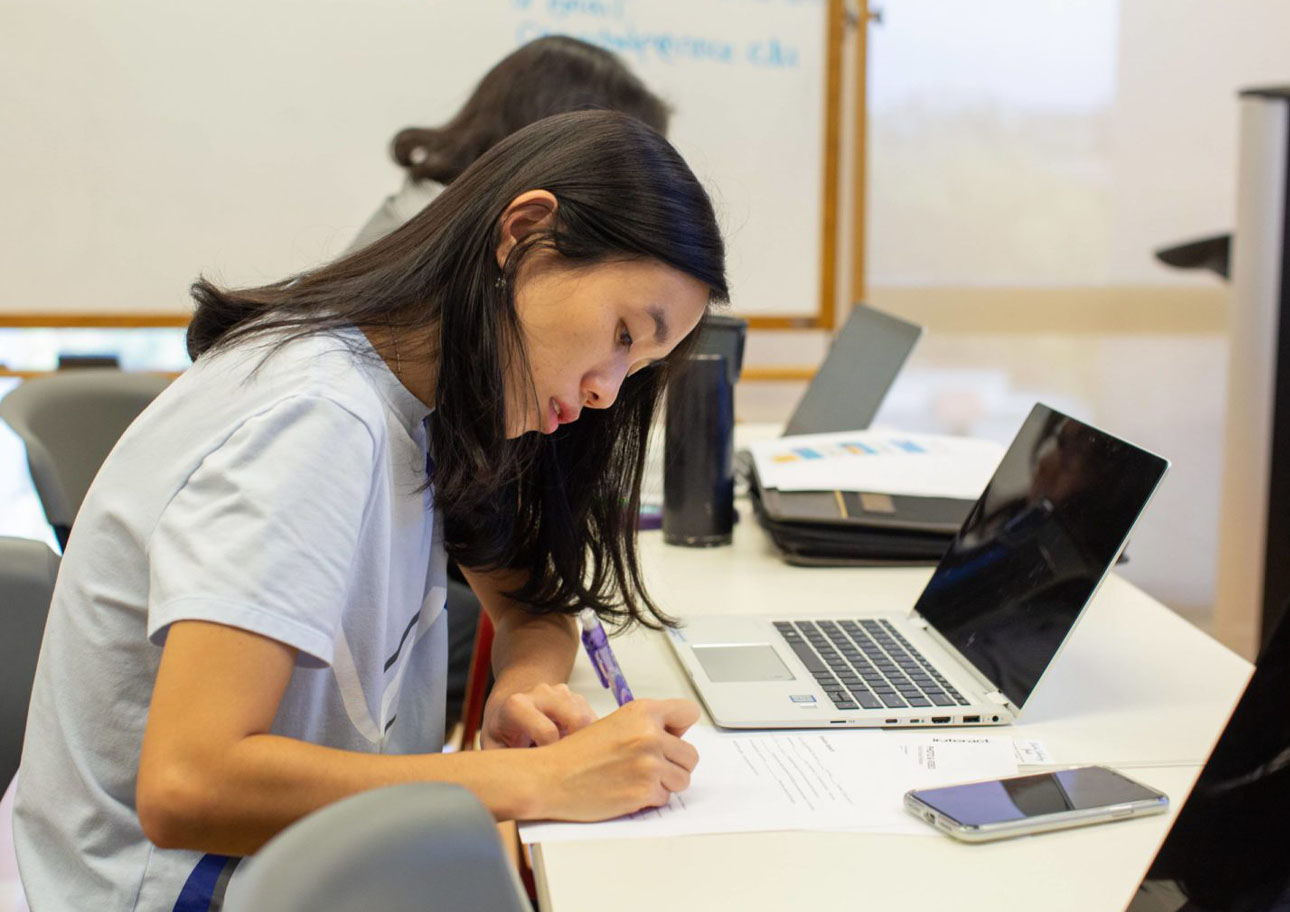 August 07, 2020.
---
A medical assistant student keeps getting interviews, but no job offers… until mock interviews at North Orange Continuing Education's Career Resource Center (CRC) provides her with the practice and empowers her with the confidence she needs. The next time she's interviewed, she nails it, finally launching her dream career at Children's Hospital of Orange County.
Take an English as a Second Language (ESL) student who has just emigrated from Mexico. With résumé assistance and a mock interviews practice from the CRC, he gets a job at CBS Network working as a financial analyst, and he says he wouldn't have been able to do it without the support and assistance from CRC staff.
These are just two victories out of many more that have happened since the Career Resource Center opened its doors about a year and a half ago. Since then, the CRC has grown to serve about 600 students per term, giving them the lifelong career skills to thrive in the workforce.
"One of our values is to teach our students how to apply for a job, and make sure they have the skills an employer is going to look for so that they can not only get the job but maintain it," says Raine Hambly, NOCE Director of Career Technical Education (CTE). "We're trying to make sure that our students can be proactive on their own."
And even amid the COVID-19 health crisis, the CRC is launching programs to help students overcome job search hurdles.
"Many students are unemployed … [and] lack self-confidence," says Denise Mora, Career Resource Center Coordinator at NOCE. Some students come into the CRC not knowing what a résumé is or never having done a job interview. With help and support from the CRC staff, we give them that foundation," Mora says.
The CRC has a variety of programs to help students build skills and boost self-assurance. Now that instruction is being held remotely, the CRC is offering online workshops via Zoom on how to use LinkedIn and Zoom as well as career and soft skills workshops. Sessions are hosted two to three times per week and cover the 21st-century skills students need to find employment or advance in their careers.
From writing a cover letter to "soft skills" like communication and teamwork, students learn the basics and beyond. Most recently, NOCE's workshop "Job Search Strategies: How to use LinkedIn to Job Search During COVID-19," drew 70 students for the two-hour session. Topics included virtual networking, personal branding, and using LinkedIn to search for jobs. "Having those types of workshops are very useful," says Mora, who has received positive feedback from attendees.
For those who need a tech boost just to get started, the CRC offers workshops on how to use Canvas, the school's online learning platform, as well as "Zoom Boot Camps." Available to both faculty and students, these 30-minute sessions cover the ins and outs of video conferencing tech as it applies to work and school.
In just 20 minutes a day, students can also steadily build career readiness in the Career Launch Academy, one of the CRC's newest programs. Used by major universities like UC Davis, UC Riverside, and the University of San Francisco, the online coaching program delivers career-boosting tips and tricks in bite-sized texts and emails. Students also receive a personalized online portal, weekly Q&A career coaching in video chats, and access to a private LinkedIn group.
The Career Launch Academy started early this year and, for many, has become the perfect support system. Even during COVID-19, students are finding jobs thanks to the high-touch help. There are new cohorts every three months, and Hambly says it's an excellent complement to the other Career Center programs.
"A lot of them feel insecure about even applying for jobs," shares Hambly. "But after their experience in the Academy, these students now feel more confident to go out and at least speak to employers and apply for jobs."
If students need extra skill boosts, they also receive free access to LinkedIn Learning, an online platform with more than 16,000 expert-led video tutorials. The service will persist at least for the next year, thanks to grant support of the Strong Workforce Program.
"If students are having issues with interviews and want to practice more," says Mora, "we might recommend a LinkedIn Learning course or video that focuses on successful interviewing skills." Once logged into the system, students can take advantage of the wide variety of instructional videos and courses.
"They could even be working on their Microsoft certification, learning how to use Excel," says Hambly. "They can really go in and do all kinds of skill sets that they're interested in."
All of the diverse and complementary offerings at the Career Resource Center are open to all NOCE learners. There are even students who come from Cypress College and Fullerton College to take advantage of the CRC's resources.
Meanwhile, the Career Resource Center is making plans to serve even more students. For starters, with the help of the North Orange County Regional Consortium (NOCRC), funding was recently approved to hire a full-time permanent Career Center Coordinator II position, ensuring more stability for the valued resource.
With a firm foundation in place, the coordinator is now expanding the CRC's offerings, starting with NOCE's first online job board through the Simplicity platform. The board, which shares job postings with Fullerton College, will help students with networking and will feature comprehensive job listings for the North Orange County area.
"Right now, it's kind of like a phone tree network," explains Hambly. In the past, job listings would be sent to faculty and tacked up on a board. Making things virtual, according to the director, will not only streamline job-sharing, but also make the critical career info available 24-7
"Having this online job board will really provide more access which will only lead to more opportunities for our students.."
Finding a job is just the first step. Students also need to work on their résumés, and thanks to VMock Dashboard, it will soon be easier than ever. The smart software is powered by artificial intelligence that automates resume reviews and helps coaches narrow their strategic focus.
For NOCE students with no prior résumé experience, the platform will help them master the basics quickly so that they can spend their time with CRC staff more efficiently
"Students create their résumés with feedback from the platform," says Mora. "Then, students meet with CRC staff to customize the résumé to a specific job that they are applying for."
For Mora, it's rewarding to look back and see how many students the Career Resource Center has already helped, and with even more support coming down the pipeline, she's looking forward to many more success stories.
"It's great to hear from the students when they come back…and say, 'I got a job,' and 'thank you so much for everything you did to help me,'" Mora reflects. "We're so proud of them and glad that we can help them in reaching their goals."
"Denise has really taken the helm and made the Career Resource Center into something even bigger than what we originally envisioned," commends Hambly. "It's been a valuable opportunity for our students and a rewarding experience for us at NOCE to help them gain confidence and employment."