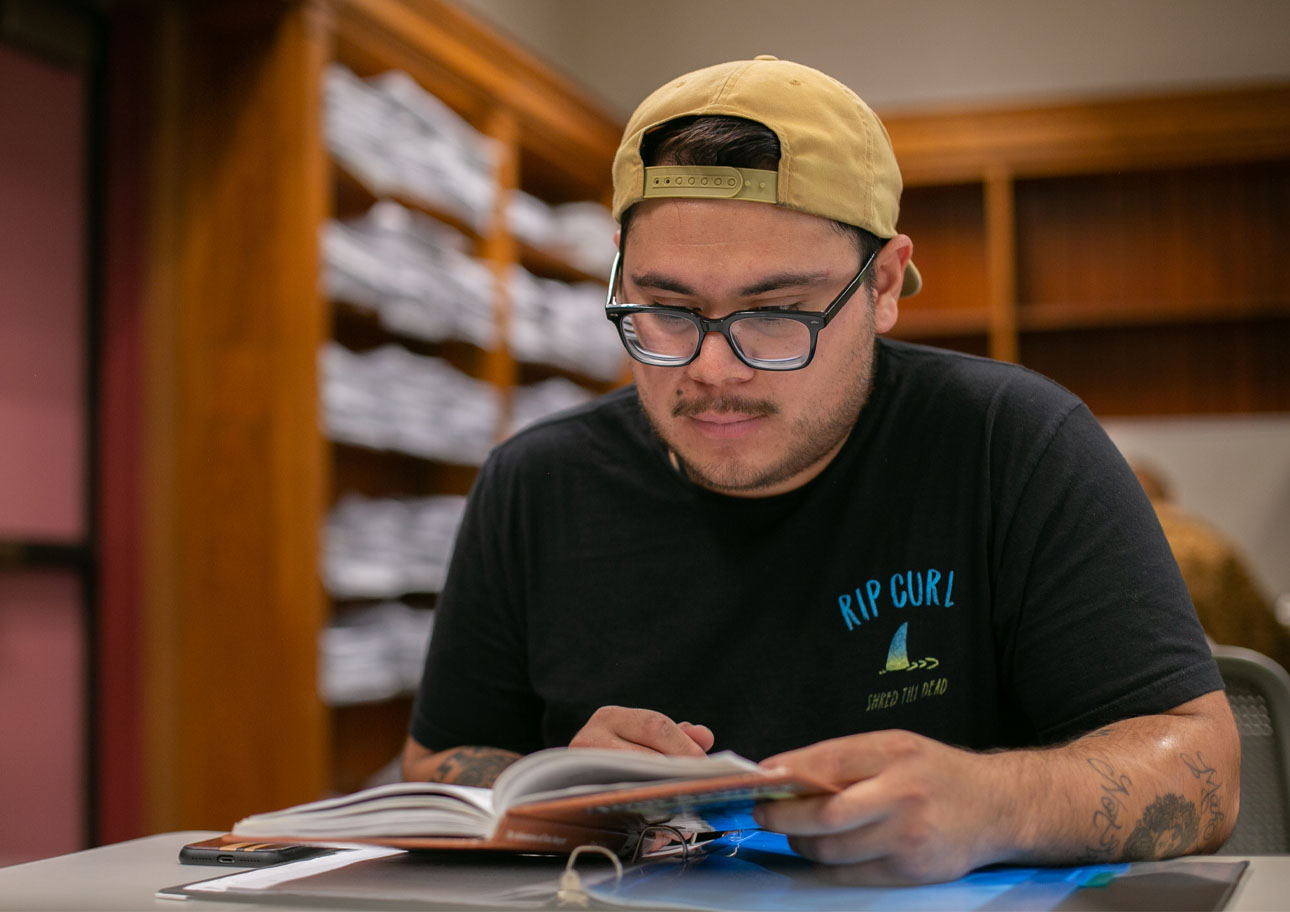 May 09, 2019.
---
You might not realize it, but of all the things a person accomplishes in their life, their high school diploma might be one of the most important. While securing a diploma is no guarantee of future success, data suggests that failure to do so directly correlates with a myriad of negative socio-cultural effects including cycles of poverty, depressed earnings potential, and even younger mortality rates.
Fortunately, the North Orange Continuing Education High School Labs and the North Orange County Regional Consortium for Adult Education's (NOCRC's) High School Diploma Program strategies offer a way forward for adults who are looking for a brighter future for themselves and their families.
"Adult students who have not had the opportunity to finish high school because of personal circumstances, family obligations, needing to work, or just the fact that they didn't realize how important their education was, have another chance here," says Margie Abab, Director of Basic Skills/High School Diploma and GED/HiSET Programs at North Orange Continuing Education (NOCE). "The high school labs provide an opportunity for these adults to acquire better jobs and improve their lives."
As part of NOCRC's Basic Skills/High School Diploma Workgroup, NOCE's High School Diploma Program provides an educational pathway for adult students who have dropped out of high school but would like another opportunity.
With labs located at the Cypress, Anaheim, and Fullerton NOCE Centers, as well as two more off-site labs located at Gilbert South and El Camino Real High Schools, the labs provide a quiet area to work, textbook materials, access to on-site tutors and instructors, and all the exams required to complete a 160-unit program that leads to a high school diploma. Even better, it's all free to students.
"The important thing to stress is our flexibility," says Dr. Dan Stackhouse, who has been an instructor in the High School Diploma Program for the last 19 years. "Think of us as a store—you can come in at any time that we are open. This is a bridge for many of our students—a bridge to better jobs, to more education, to college. That's why we want our services to be as easy as possible for them to utilize."
Last year, the NOCE High School Diploma Program successfully helped 266 students complete their diplomas. Based on a credit system, as opposed to "seat time," students take tests to prove competency and earn credits in such typical high school subjects as math, reading, writing, and social studies. Unlike a GED program which results in a state-issued credential, students of the High School Diploma Program graduate with a physical diploma from the North Orange County Community College District.
While a high school diploma and GED/HiSET credential are generally considered to be educationally equivalent by employers, state agencies, and colleges, there are some differences. For example, the armed forces, some four-year universities, and certain employers may not accept a GED/HiSET certificate and may instead require a high school diploma.
"A GED/HiSET is a great choice for some people, but it's not for everyone," explains Stackhouse. "With our diploma program, it's more of a step-by-step process. In the lab, students can go at their own pace. And they get more support and help, and that's important, especially if you are an English as a Second Language student or haven't had a lot of experience succeeding in school."
Abab remembers one student named Jesse who started the program but stopped coming about half-way through. It turns out he was just struggling with math. Sadly, it is not uncommon for students to stop attending when things get difficult.
"A lot of what we're doing is changing their mindset," explains Abab. "Many of our students don't have anyone in their family who they can go to for academic support. They are often the first generation graduating from high school. It is important that they realize it is all right for things to be challenging and they can work through them. We are here to provide the support needed to help our students achieve their academic goals."
Jesse was a case in point. After getting him the extra support he needed in math, Jesse not only completed his high school diploma, but was selected to be the student speaker at his graduation.
Stackhouse tells a similar story about a student named Zach who recently paid him a visit.
"I hadn't seen him in years," recalls Stackhouse. "But one day he stopped in and told me he'd just been accepted into a firefighter training program and that if it weren't for this program, he never would have gotten his diploma. Zach then added, 'You may think what you're doing doesn't make a difference, but I'm here to tell you that it does.'"
As for the future, Abab is especially excited about two new initiatives. The first is called Transitioning to College Strategy, a new program that provides outreach and support to encourage High School Diploma Program graduates to transition into college.
A GED-Direct Instruction Program is also in development. In contrast to the GED/HiSET Preparation Program that already exists at the NOCE Wilshire Center, this new class will be held in a traditional classroom setting during set hours. This traditional setting will help students prepare for the GED/HiSET exam by providing direct instructional support in the areas of math, science, social sciences, and English to create a foundation for more successful student outcomes.
"We are very proud of our students," says Abab, "because most of them have barriers to overcome. Life has not been easy for many of them, yet they work hard to achieve their goals, to get that diploma, and to be able to provide a better life for themselves and their families. When you get to see your students walk on stage and graduate, it's the best feeling. You know you've helped them to do something outstanding."
For more information about NOCRC's High School Diploma Program or any of our other programs, please visit www.NOCRCAE.org.