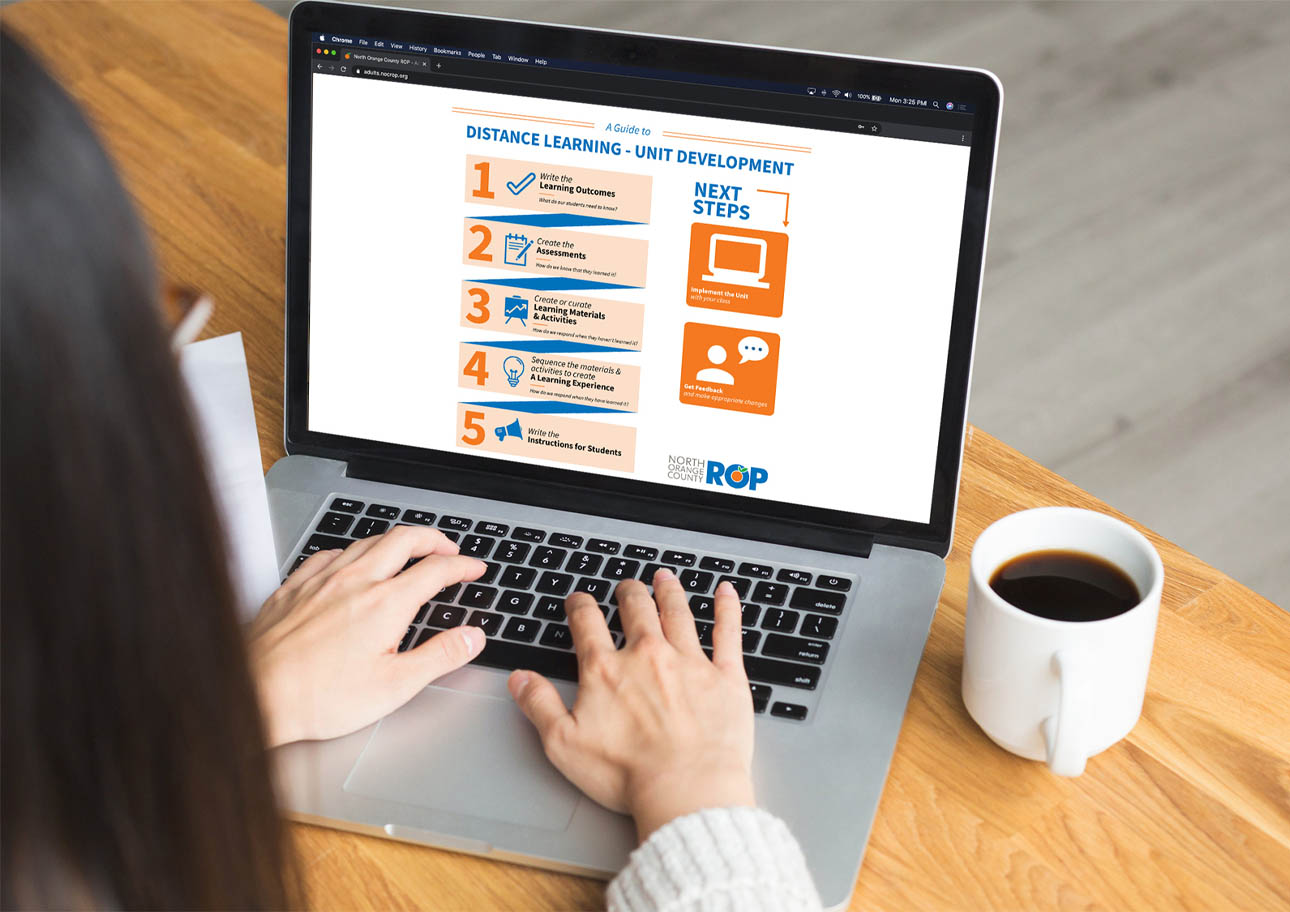 June 18, 2020.
---
There's a famous phrase at the North Orange County Regional Occupational Program (NOCROP): "Be the guide on the side, not the sage on the stage." It's about having the teaching characteristics to make learning rational, exciting, and even enjoyable.
It's particularly appropriate in these uncertain times. As the COVID-19 health crisis pushes college courses online, the challenge of staying emotionally connected to one's studies becomes more burdensome. But thanks to compassionate, connected instructors and new breakthroughs in online learning, higher education is in no danger of becoming "death by PowerPoint" anytime soon.
"Online learning can be engaging, invigorating, and rigorous, all with the goal of seeing students learn and be successful," says NOCROP Instructional Coach Lourdes (Lulu) Amador.
When it comes to learning, whether in a brick-and-mortar or online classroom, she knows that for students, "it needs to become their journey, their knowledge, and their experience because that's what becomes meaningful."
As the guide on the side, Amador provides support to teachers to help them ensure student success. And since NOCROP, a member of the North Orange County Regional Consortium (NOCRC), started making the leap to online in mid-March, a lot of her work has included helping instructors make online courses emerge as online successes.
"I have really challenged myself to become familiar with tools that you can use in the digital learning environment," says Amador, who credits Adult Career Education Manager Jennifer Prado for encouraging her to keep up to date with the latest educational technology, long before COVID-19. In the past weeks, she's taken a deep dive into tools and strategies that can help instructors maintain a dynamic classroom for students of all learning levels.
Amador began offering support at NOCROP with a comprehensive, two-day training for instructors in every aspect of Google Classroom. As a Level 1 Google Certified Educator, Amador shared tips, shortcuts, and "how-tos" for the Google Suite, including more advanced options to enrich the basics. And the training continues every week with ongoing support and new resources.
For instructors, Amador's assistance is a lifeline.
"I would not call myself a tech-savvy person at all," shares Martha Delgadillo, director of the Nursing Assistant program. "However, with Lulu's help, I was able to navigate this platform."
When the director was up late with tech troubles, she would reach out to Amador and find the support she needed. "Every step is a learning opportunity," she reflects. "I am very thankful for her guidance."
For instructor Tamara Vega, the direction from Amador has helped her dental course transition to online without a glitch. From a well-structured Google Classroom to educational resources, she's able to give students the full support that they need to jump-start their careers.
"I am grateful to have leaders like Lulu guiding the dental courses toward our success of becoming healthcare providers in this new era," Vega shares.
Instructors have benefited from new tech tools, including Kahoot!, an app that uses games to help students study and prep for tests, both in single-player and group modes. Instructors are also exploring Padlet, a digital canvas that students can use to collaborate with text, video, and audio. By far, Amador's favorite tool is Pear Deck, which transforms Google Slides into interactive lessons with formative assessments and interactive questions.
"I am so incredibly grateful for the partnership we have with the North Orange County Regional Consortium," says Amador. "They have introduced me to crucial and relevant resources I wasn't aware of … that allow me to better serve the faculty and students of NOCROP."
In particular, NOCRC has connected Amador to OTAN, California's Outreach and Technical Assistance Network, which provides collaboration, information, and technology support to adult education providers.
Just before the health crisis, Amador attended an OTAN conference on distance learning tools, where she learned how to create "escape rooms" using Google Sites. These image-based interactive puzzles challenge students to master material in a fun way.
For example, in a Licensed Vocational Nursing program, the instructor could display a photograph where students have to "stop" on a mannequin and give the steps to perform a specific procedure in order to  move through the virtual room. "You can engage your students while they learn," says Amador. "For me, that was the biggest takeaway of the training, and it's something I continue to actively work on."
The practical resources in Amador's extensive toolkit are presented as options for instructors to explore and choose what works best for them. Everyone is encouraged to share ideas, collaborate, and help each other. The technology training sessions have been a tremendous support in building engaging online classrooms, and combined with NOCROP's outstanding student support services, the hard work is paying off.
"We have great student retention," says the instructional coach. "Everyone is right where they are supposed to be."
According to Amador, NOCROP has always excelled at reaching students from a variety of backgrounds. While the new learning environment isn't the norm, it is certainly not a brick wall. The secret to innovative education has always been understanding that students are at different points with the course material, and now, technology is simply adding another nuance.
"I would say the biggest challenge when it comes to teaching, in general, is learning those differentiated instructional strategies on how to maximize student success at every level for every person you're working with," explains Amador.
So, when it comes to distance learning, it's just a matter of identifying strengths and preferences. The trick is to learn those inclinations, and then try to serve each student—in other words, precisely what NOCROP has always done.
"At the end of the day," says Amador, "my belief is that we will all come out of this stronger, smarter, and better."
For NOCROP's guides on the side, conjuring the strength and courage to surmount these challenges is a direct testament to the group's invincible teamwork.
"We already had great communication and rapport at NOCROP," says Amador, citing the team's positive attitude and flexibility to new strategies. "I would say  this environment has strengthened that relationship."
Looking toward the future, NOCROP will continue to innovate while following state guidelines for adult education. Among the strengths of the program are its variety and versatility, especially when it comes to online offerings. And soon, there might even be more courses joining the online platform.
"The adult program is definitely moving forward," says Amador. "We are strong, we are ready, and we are equipped to continue helping students succeed and reach their goals."