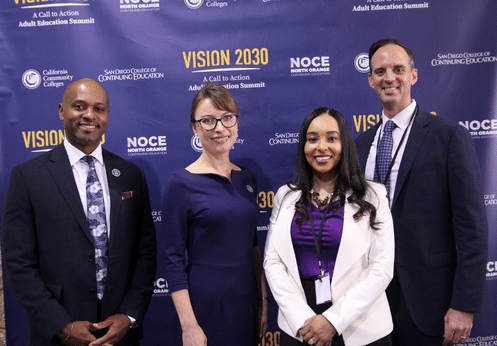 Leaders gather to showcase the benefits of adult education throughout California (from left to right): NOCCCD Chancellor Dr. Byron D. Clift Breland, NOCE President Valentina Purtell, SDCCE President Dr. Tina King, and SDCCD Acting Chancellor Gregory A. Smith.
The recent Vision 2030: A Call to Action-Adult Education Summit, co-hosted by North Orange Continuing Education (NOCE) California Community College (CCC) Chancellor's Office, and San Diego College of Continuing Education (SDCCE), highlighted the desire to invest, elevate, and reimagine adult education. The two-day summit held October 5-6, 2023, at SDCCCE, brought together more than 300 influential elected officials, community college visionaries, and representatives from business, industry, and labor to share expertise and innovative solutions to eliminate barriers for adult learners to reach their personal, educational, and career goals. CCC Chancellor Dr. Sonya Christian, NOCE,and SDCCCE were proud to work together to showcase adult education as an accessible, nimble, and responsive segment of higher education for equitable education and socio-economic mobility.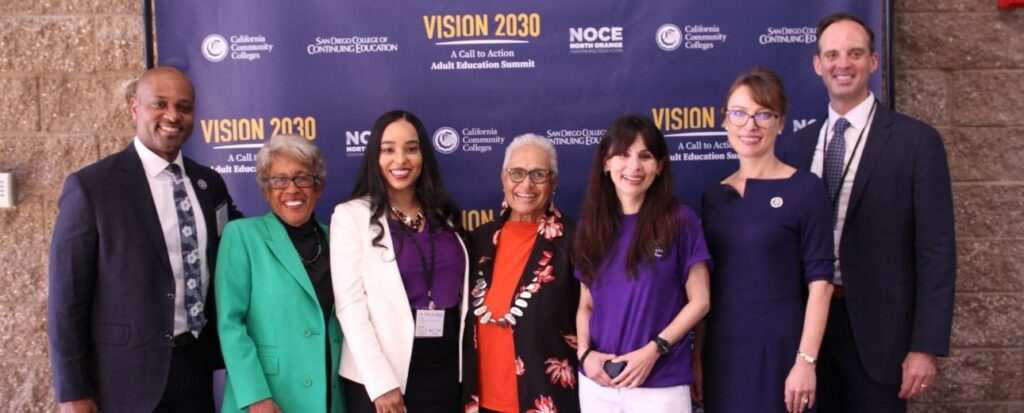 Day one started with an overview by both noncredit education providers' CEOs, NOCE President Valentina Purtell and SDCCE President Dr. Tina King. The two shared the comprehensive instructional and student support services offered by each institution and the desire to strengthen our communities through education. Next, an address from CCC Chancellor Dr. Sonya Christian emphasized the critical importance of noncredit, adult education in uplifting the 6.8 million Californians living in or near poverty.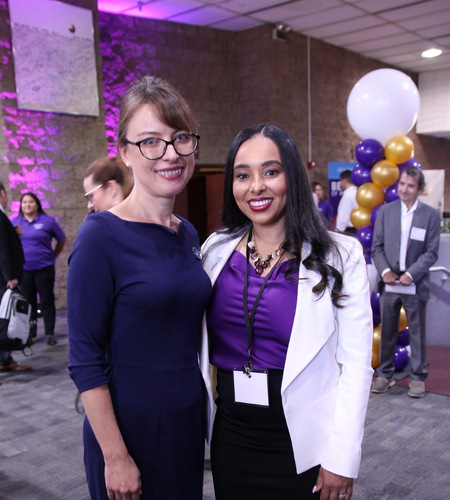 Panelists from government, business and industry, media, and education shared the stage throughout the two days, discussing topics that would elevate and reframe noncredit into an important engine for economic mobility. Some of the topics included successful and emerging adult education practices; pre-apprenticeship programs and workforce initiatives; pathways from noncredit-to-credit programs; baccalaureate degrees; data infrastructure; successful curricula for adult learners; and basic needs and student support services. A highlight of the summit was the student panel. Moderated by Board of Governors Student Trustee Paul Medina with students from NOCE, SDCCE, and East Los Angeles College, the group talked about how transformational experiences in noncredit programs shaped their career and educational journeys. NOCE was represented by Neshia Jenkins, student leader and Special Projects Coordinator, Community Engagement and Outreach.
Thanks to NOCE Vice President of Instruction Dr. Karen Bautista for serving as co-emcee, , as well as Special Projects Director for the Community College Technical Assistance Program (CC TAP) Dr. Lisa Takami for serving as a moderator about empowering lifelong learners, a panel with President Purtell, President Dr. King, and Citrus College Superintendent/President Dr. Greg Schulz. Dr. Cathleen Greiner introduced the NOCCCD Center for Entrepreneurship as an innovative program to offer instruction and financial support to adult learners seeking to start their own business. In addition, the Association of Community and Continuing Education (ACCE) noncredit professional advocacy organization was represented by Dr. Madelyn Arballo, Vice President at Mt. San Antonio College, as she spoke on a panel about adult education as a path to equitable workforce and economic development.
On Day two, North Orange County Community College District (NOCCCD) Chancellor Dr. Byron D. Clift Breland joined CCC Chancellor Dr. Sonya Christian and San Diego Community College District Acting Chancellor Gregory A. Smith to discuss ways that leaders in community colleges can support adult education on their campuses. Dr. Breland emphasized equity in serving all students in our communities.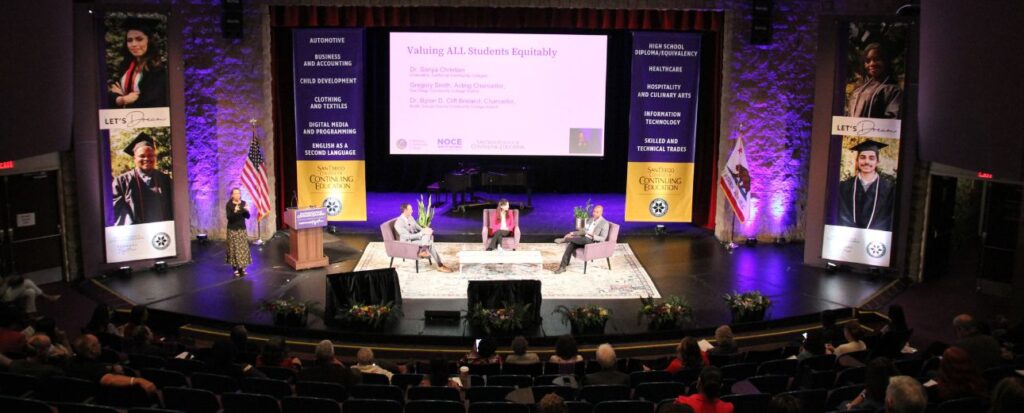 Vice President of Student Services Martha Gutierrez participated in a panel exploring ways to provide a comprehensive network of support services to eliminate barriers and ensure adult learner persistence. NOCE Basic Skills Faculty Member, Curriculum Chair, and ASCCC South Representative Dr. Kimberley Stiemke spoke as part of a panel about what faculty members need to support adult learners in and out of the classroom.
We were pleased to welcome and hear from Secretary of State Shirley Weber, Secretary of Labor Stewart Knox, Assemblymember David Alvarez, Assemblymember Chris Ward, Deputy Cabinet Secretary to California Governor Newsom Ben Chida, and San Diego City Council President Pro Tem Monica Mongomery Steppe.
Dr. Daisy Gonzales, Deputy Chancellor of California Community Colleges, shared 10 action steps to continue the momentum for investing in adult education at the close of the Vision 2030-Adult Education Summit:
Build noncredit-to-credit baccalaureate programs.
Provide credit for prior learning.
Nurture new partnerships.
Develop new tools to engage, then listen, to design basic needs support.
Build flexible learning environments.
Expand paid work-based learning.
Integrate needs within the ecosystem.
Create spaces to innovate with employers.
Build robust career exploration and job placement.
Tell our adult education story.
In addition, Presidents Purtell and Dr. King developed a document, Vision 2030: A Call to Action-Adult Education Summit – Challenges and Opportunities for Adult Education. The brief lists challenges as well as several proposed solutions for intentional investment in expanding the capacity of noncredit education to offer equitable access to education leading to economic mobility.
The Vision 2030: A Call to Action – Adult Education Summit website showcases the agenda, speakers, and sponsors. To view photos from the summit, click here: Photos-Vision 2030: A Call to Action-Adult Education Summit
The live stream videos of the event are available to watch via YouTube:
Special thanks to the NOCE planning team who worked tirelessly together with SDCCE on developing and executing this historic event; led by Executive Assistant to the President Julie Schoepf and Campus Communications Director Jennifer Perez and including NOCE team members who also hosted the prestigious panel members, and served as marketing representatives and media/press contacts: Amabel Arredondo, Michelle Bringman, Antionese Cotton, Nancy Flores, Monica Gomez, and Jayzelle Mata. NOCE looks forward to co-hosting the 2024 Adult Education Summit in Anaheim.