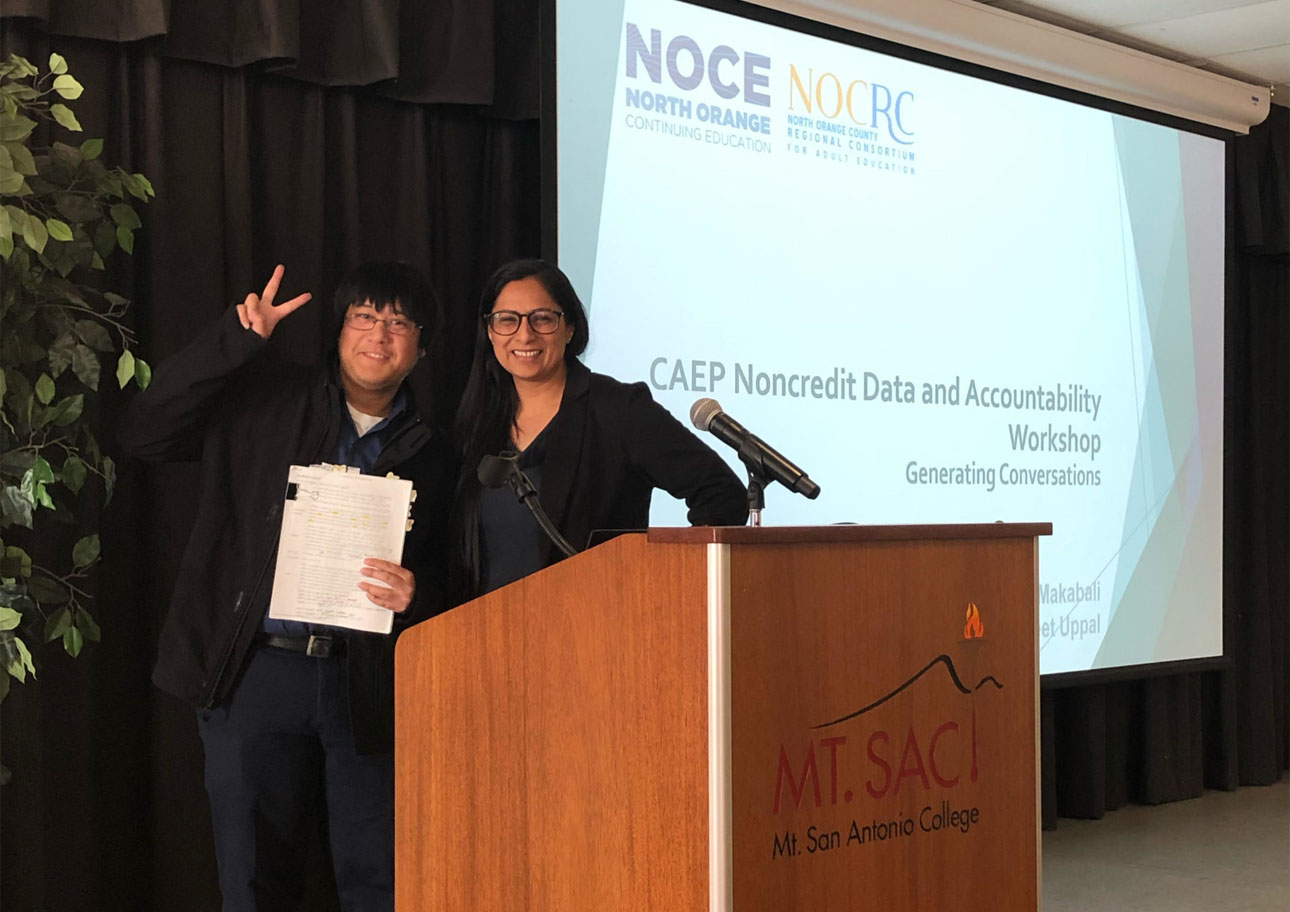 April 27, 2020.
---
According to the California Community Colleges Chancellor's Office's Adult Education Pipeline Launchboard data for the 2017/18 academic year, California has a thriving 888,049 students enrolled in adult education programs, with nearly 27,000 served by North Orange Continuing Education (NOCE), a member of the North Orange County Regional Consortium (NOCRC).
To ensure the success of all adult education students, NOCE/NOCRC researchers analyze information regarding student journeys and outcomes, including enrollment, transition, learning, and post-exit outcomes. Collecting and reporting this information is mandatory for all California Adult Education Program (CAEP) consortia, including NOCRC. This information helps the state report to policy makers and provides data to consortia members on how adult learners can successfully enroll in courses, complete them, and transition to college or gain jobs in the workforce.
This can be a sizable and complex task, which is exactly why two NOCE researchers recently traveled the state to help peers at other CAEP consortia. The researchers shared best practices on how to examine adult education data and engage in meaningful dialogue regarding the implications of the data with all consortium stakeholders.
Dr. Harpreet Uppal, interim senior research and planning analyst, and Jason Makabali, senior research and planning analyst, began their journey when they were asked to present at the regional workshops hosted by WestEd, a research, development, and services agency. WestEd is a key stakeholder in the development of CAEP metrics that are presented through the CCC Chancellor's Office data dashboards.
A WestEd official had attended a presentation by Dr. Uppal and Makabali on the work they had done and thought CAEP members statewide would benefit from learning their innovative techniques in gathering and evaluating consortia data.
The "MIS Noncredit Data and Accountability Workshops" served to educate and train organizations across California on how to collect student data and ultimately align their educational, institutional, and organizational strategies to meet their desired outcomes. Desired outcomes could range from increasing student enrollment and retention rates in a given CAEP program to revising curriculum and aligning with industry needs. At the workshops, Dr. Uppal and Makabali shared their insights on how they collect NOCE/NOCRC data and then hosted lively and informative discussions with workshop participants.
The CCC Chancellor's Office sponsored the research and workshops. The conferences began in December in San Diego, then continued to Sacramento, Merced, Hayward, Walnut, and San Bernardino.
When examining NOCRC's strategies, Dr. Uppal and Makabali created a sizable Excel spreadsheet that mapped the five educational areas for the consortium – English as a Second Language, Basic Skills, Career Technical Education, Disability Support Services, and K-12 Student Success. 
Adult education consortiums vary on how and who collects data, and whether they have researchers in-house or at a distant campus (one participant had campuses 100 miles apart). "At NOCE, we have a lot of education data in-house so it's a lot easier for us to do," Dr. Uppal said. "Others would have to build those partnerships to have a better understanding of where the data collection is happening and the different platforms they're using."
Because of the differences in the various consortia, Dr. Uppal and Makabali's knowledge of how NOCE operates was a way to start conversations, but not a blueprint that others could simply adopt.
"We shared our approach, but the conversation really evolved," Dr. Uppal said. 
"It was more about helping other folks understand how they could collaborate with their researchers—to have an open dialogue among stakeholders."
Dr. Uppal and Makabali found the experience rewarding.
"It was amazing not just because we got to share what we had done for our consortium, but also because we got to meet people from all different consortiums and learn from their experiences, too," Dr. Uppal said. Makabali agreed and thought the experience was cool.
To learn more about NOCRC's data analysis best practices, visit the NOCE Institutional Research web page or contact the Office of Institutional Research and Planning at OIRP@noce.edu.