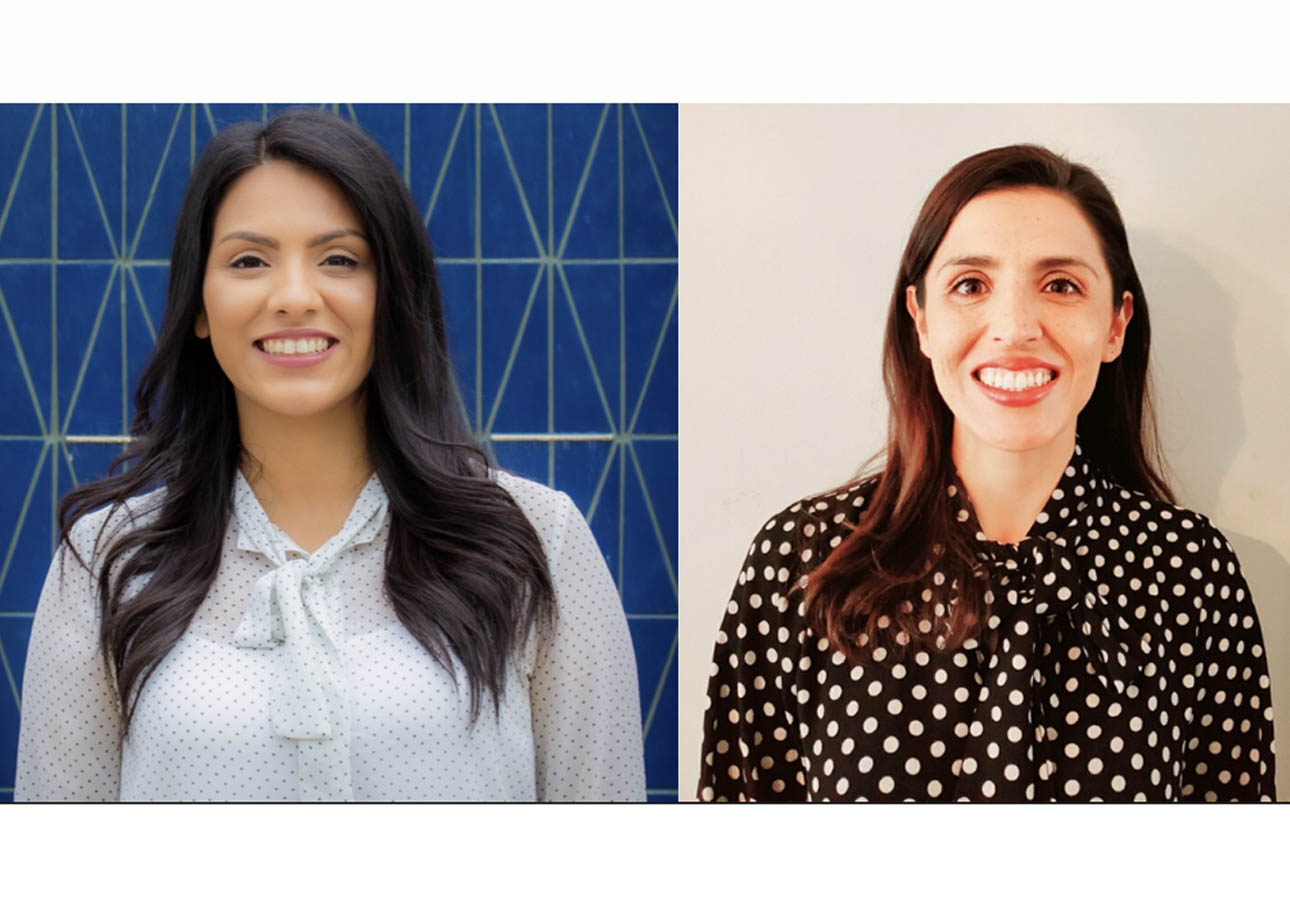 September 01, 2020.
---
Pictured above from left to right: Tanya Garcia, Araceli Huerta.
It's hard for young learners to thrive if their families can't access basic services. Whether it's medical insurance to receive COVID-19 testing, or transportation to get to the doctor, student success depends more than ever on close connections to essential support.
With the launch of two new Community Schools l Coordinator positions, the Anaheim Union High School District (AUHSD) has redoubled its commitment to serve families in a holistic way. The effort, funded by the NOCRC's Community Schools strategy for CAEP, is transforming two local schools, Anaheim High School and Sycamore Junior High, into hubs for streamlined care.
"It's an easier way for families to access those critical services," says Tanya Garcia, Community Schools Coordinator at AUHSD since January 2020.
Whether families are facing issues with finding childcare, putting food on the table, or weathering financial challenges, Garcia says coordinators can help alleviate stressors. The secret is promoting a community schools model in which the campus becomes a nexus of support for the entire family and community.
"The hiring of two full-time Community Schools Coordinators is a testament to AUHSD's values," says Araceli Huerta, Coordinator at Sycamore. The long-time Anaheim resident has been part of the district's evolving Family and Community Engagement (FACE) efforts for almost 10 years. "It shows we really do care about our families, value our community, and believe in our students and the immeasurable potential they each possess."
According to the coordinators, about 90 percent of families at Anaheim High School and over 96 percent at Sycamore Junior High experience socioeconomic hardships. Many students are the first in their families to go to school, a situation that's close to Garcia's heart:
"I myself am a first-generation student, so I know firsthand the difficulties that families and students have," says Garcia.
Often, families might not know what services are available or even how to take the first step to support and assist their children at school.
"To help families navigate the educational system is definitely a passion of mine," says Garcia, whose background is in working with nonprofit organizations. "Being able to give back to the community is incredibly important to me."
The program began when Garcia's "fearless leader," Family and Community Engagement (FACE) Coordinator Araceli Chavez, implemented the community schools model to help families flourish. Since the start of the year, Garcia and Huerta have been making connections with the community and local organizations in an effort to expand and strengthen partnerships. 
The partnerships have already yielded big benefits for the families of Anaheim learners. Up until the COVID-19 school closures, Sycamore worked with Healthy Smiles of Orange County to offer on-site dental services to students between classes. At the same time, the district was connecting with the Assistance League of Anaheim's "Operation School Bell" to supply students with free school uniforms and shoes.
Encouraged by the early success and bolstered by community partnerships, both schools are making plans for additional support, including mental health services and supplemental afterschool learning opportunities.
"Our schools are places that our community trusts," says Huerta. "We have the connections and the relational capital to do what is right for our families."
Currently, the coordinators are tackling food insecurity with the help of Second Harvest Food Bank, Saddleback Church of Anaheim, and ICNA Relief, offering regular drive-through food distributions. By collecting and distributing produce and shelf-stable items, the district has been able to support more than 12,000 households with healthy food.
"We definitely saw that there was a huge need for food distributions," says Garcia, who helped kick-start the services in April, when families began to feel the impact of the brewing economic turmoil. "That's been our main priority right now."
With many of the region's support organizations going virtual during the health crisis, Garcia says some parents weren't sure where to find help. That's why the coordinators also created a comprehensive Family Resources website, featuring curated links to services like support for homeless families and special needs students.
Says Garcia: "We're really trying to provide access to comprehensive services so that parents don't have to spend hours online trying to search for the things that they need."
Coordinators also are bringing free mobile medical clinics to schools for COVID-19 testing. Offered in partnership with Latino Health Access, Serve the People, and Families Together, the initial clinics were hosted at Anaheim and Magnolia High Schools in July, with each site testing more than 200 people.
Eight more clinics are being scheduled over the next few weeks, offering training for parent leaders to educate others on coronavirus prevention, including steps to take if a family member falls ill. The leaders also distribute pamphlets bearing critical information and resources.
"Right now, Anaheim is one of the hardest-hit cities in the county with COVID-19 cases," says Garcia. Because many people don't have insurance and don't know where they can get tested, the coordinator says, "it's all the more reason for us to bring these much-needed services to our families."
Once the school year began, the coordinators resumed conducting needs assessments, which were delayed by COVID-19 school closures. Key stakeholders are being surveyed, including parents, school staff, students and community-based partners to investigate support gaps.
"The whole idea is to … take that data to coordinate and prioritize what services we're going to bring into the school for our families," says Garcia.
The coordinators have a bright vision for the future: After dropping kids off in the morning, for instance, parents could pop inside the school for a free medical checkup, receiving a flu shot right before they drive to work. And in between classes, students could get a cavity filled by a free dental provider or work out stress with a mental health counselor. Rather than missing work and school, traveling long distances by bus to meet basic needs at various locations, families would look no further than their local school to access a menu of essential services.
"The dream is that every school within AUHSD will be a community school," says Garcia.
For now, the coordinators are preparing to apply for various grants to expand the program and provide even more support. Just recently, they received a $50,000  Response and Recovery grant from the Anaheim Community Foundation to serve families in need with essential resources, including baby supplies, personal protective equipment and bus passes.
In the meantime, Garcia will continue working with a prevention roundtable, where different leaders from nonprofits and community organizations regularly meet to collaborate and share ideas. With those connections in place, she'll be on the lookout for new resources and services she can bring to Anaheim's families. "To be that bridge for them is super exciting," says the Anaheim coordinator.
"We are blessed to have a committed partner in NOCRC," adds Huerta. "Without their support, we wouldn't have been able to launch our initiative when we did, providing these very valuable resources to our families so that they can thrive."