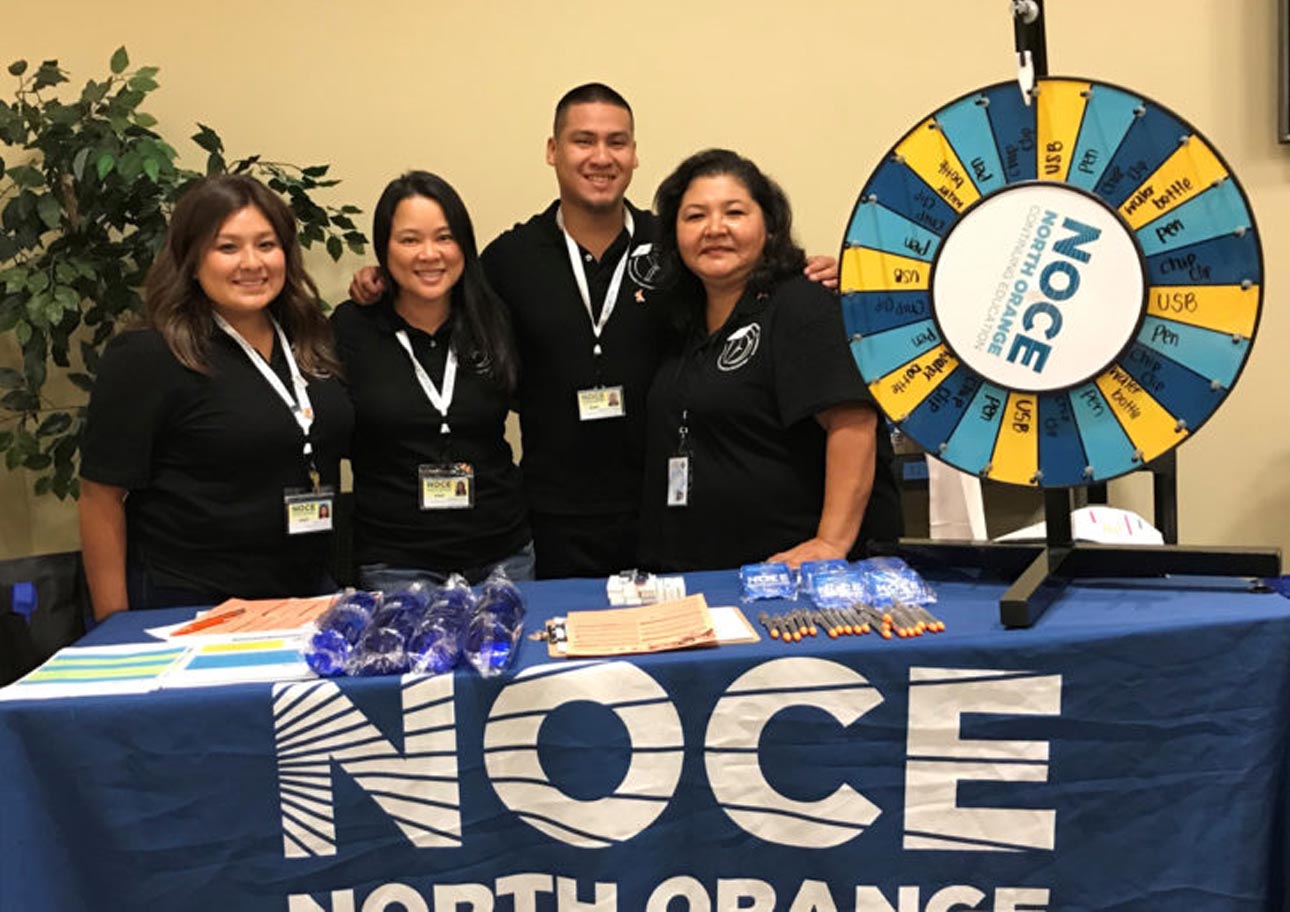 December 01, 2020

.
---
The monarch butterfly defies the limits of what is possible. The humble insect travels a staggering 3,000 miles across North America as it migrates, its entire journey spanning three or four generations of butterflies. An icon of beauty, strength, and resilience, the monarch has also become an emblem of freedom adopted by the 11 million undocumented persons in this country.
"For immigrants, the butterfly holds immense meaning," shares North Orange Continuing Education (NOCE) Special Projects Coordinator Hilda Rivera, who started at the center as an ESL instructor about 10 years ago.
"The monarch butterfly is known for its migratory patterns, moving between Mexico and the United States as the seasons dictate, making it the perfect symbol."
Nationally, it's estimated that more than 450,000 undocumented students are enrolled in college, according to Edsource. Of those, about 50,000-70,000 attend community college. Yet, less than 20,000 of those learners secure state aid, and none can receive any federal assistance, according to the Community College League of California.
Locally, NOCE estimates that it, together with its partners Cypress College and Fullerton College, serves a total of about 1,860 undocumented students. These learners face unique challenges, including the stress of possible deportation, lack of authorization to work, and little to no college knowledge. Many are first-generation college students who need safe spaces and support to thrive, especially during this difficult period during the pandemic.
That's why last month, Rivera helped coordinate the Undocumented Student Action Week in a collaboration between NOCE, Cypress College, and Fullerton College. Organized by the undocumented student empowerment program Grads to Be and made possible by a Catalyst Grant from Immigrants Rising, the event each year aims to provide support and foster an inclusive environment.
This year marks NOCE's third Undocumented Student Action Week. This statewide initiative allows community colleges and universities within California to participate in activities that empower undocumented students and their families. This year was also the first time the experience was offered virtually in full partnership between the three institutions.
Because the planning was all done online, Rivera notes that it was easier for staff from all schools to collaborate through multiple meetings and ramp up for the event. Critical to that acceleration was a comprehensive survey performed in an effort to tailor workshops to local students' needs.
"It was a true collaboration, and it worked wonders," effuses the coordinator. "That has been the ultimate goal from the beginning, to braid our resources and collaborate to make it this District-wide program where students can take advantage of services, regardless of which college they are attending."
The week kicked off on October 19 with a warm welcome from the NOCCCD chancellor, followed by remarks by the three schools' presidents. "Basically, we told them [undocumented students] that the District is a safe zone," says Rivera. "We work hard to protect their information and to provide them with academic opportunities to help them to be successful."
The highlight of the first day was UndocuAlly training for staff and faculty—which provided foundational knowledge to help build safe spaces for undocumented students. The workshop gave a comprehensive overview of available information and resources—everything from defining what undocumented actually means to showcasing the Grads to Be program's services.
On the second day, participants enjoyed a health care workshop for undocumented students, essential support during the pandemic. From free COVID-19 testing centers to income-based community clinics, students and allies discovered accessible medical resources and information about their health care rights.
"Here in California, undocumented children have full-scope medical access until they turn 26," explains Rivera. "After that point, they can still receive emergency health care or even full-scope."
Wednesday's Undocumented Student Transfer Panel showcased District alumni who were able to transfer to four-year universities, inspiring current and potential learners. Community college grads shared how they made the transition and the assistance that helped them along the way. They also demystified what it is like at a four-year university for undocumented students.
The brand-new Entrepreneurship Resources for Undocumented Students workshop debuted on Thursday. Because working opportunities for undocumented individuals can be limited, entrepreneurship can be a more accessible avenue to financial security. The event featured resources and opportunities available at the District and beyond. According to Rivera, the workshop provided students "with tools and ideas on how to move forward with their education and which careers are a better fit for somebody who is undocumented."
The critical Know Your Rights Workshop also took place on Thursday. Hosted by an immigration attorney, the event focused on navigating encounters with Immigration and Customs Enforcement (ICE) officers. As members of the undocumented community can often fear detainment and deportation, the workshop equipped participants with tools to protect themselves and their allies.
"This information was for undocumented immigrants, but also for faculty and staff to know how to proceed in ensuring a safe space for all students in higher education," says Rivera.
Finally, Friday's Financial Aid Overview gave learners everything they needed to complete the California Dream Act application, based on income and age. Though undocumented students cannot apply for federal aid, the California Dream Act makes higher ed accessible to all.
Attendance for each of the workshops ranged from 25 to 40 participants, and organizers were pleased with the high levels of engagement. More than ever, Rivera says, the needs of undocumented students are critical.
"With everything that is going on, we want to work with these students, not only academically, but also with their personal needs," says the dedicated UndocuAlly. "If they don't have access to services that they need, one, they will not come to class, and two, they will be too distracted to learn."
Not only is protecting undocumented students the right thing to do, but it's also the right thing for the economy. According to the California Community Colleges Chancellor's Office, DACA recipients will contribute $460 billion to the nation's economy over the next decade.
So, it could be said that investing in undocumented students is also investing in a brighter future for everyone. For Rivera, October represented perfect timing for a week of support for undocumented students: "To facilitate an event like this is very rewarding."
"At NOCE, we recognize the courage that it takes for undocumented students to pursue education," says NOCE President Valentina Purtell in her welcome address for Undocumented Student Action Week. "We celebrate the rich diversity of our students, as we together build a culture of equity and inclusion."
NOCE's Grads to Be program will offer free immigration legal aid clinics in December. In collaboration with US Immigration Law Group, NOCE will offer 30-minute Zoom or phone appointments for students, their family, and community members from 4 p.m.-6 p.m. on Wednesdays, December 9 and December 16. For more information, see the legal aid clinic flyer. To make an appointment, please contact: Hilda Rivera at 714.252.6840 or hrivera@noce.edu.
For more information about resources for undocumented students, visit the Grads to Be program or contact Hilda Rivera at grads2b@noce.edu or 714.252.6840.